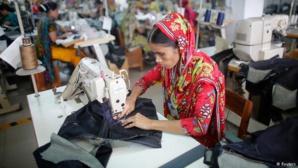 Dailycsr.com – 12 January 2016 – Primark, a retailer in value fashion trend, takes a step towards improving the "working conditions for garment workers" of the developing markets, whereby it extended a partnership with the DFID, namely the Department for International Development.
Primark will strive to strike a balance between both the partners and make use of the best in both by combining their expertise, presence and network facilities to bring in an improvement in the wellbeing and health conditions of the local workers, besides adding a fresh boost to the economic development of the nation. Moreover, the partnership will also help in easing out the poverty in its five key market sectors, namely "Bangladesh, Pakistan, Burma, Ethiopia and India".
The joint venture programme will mainly focus helping women workers of the developing world by encouraging "gender equality training" especially in the garment factories, conducting training sessions for female nurses among other plans.
The endeavour is an attempt to bring a "positive change" in the working environment for the women workers of those regions.
The said partnership has enumerated three key areas wherein they will focus in order to bring forth "transformative changes as reported by ethicalperformance.com:
"...women's economic empowerment, the creation of new ethical garment sectors in areas such as Burma and East Africa and the development of effective disaster response (sharing lessons from the Rana Plaza disaster of 2013)".
In fact, Paul Lister from the "Primark's Ethical Trading Team" stated:
"We know that as well as ensuring worker rights are protected within the factories we work with, we can positively impact lives outside of the factory too. Whether it's financial literacy, health education or helping workers understand their rights, we've seen that simple initiatives with local partners can make a huge difference."
"Our new partnership with DFID recognises the strength and depth of the work we have been doing across our supply chain. But, most importantly, it will help us use our expertise and resources already on the ground, to accelerate the impact of our programmes."
References:
http://www.ethicalperformance.com/