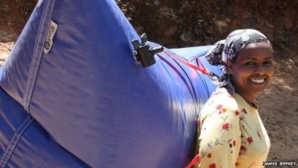 Dailycsr.com – 18 September 2015 – According to the "BBC News reports", the B-Energy, a German based "social enterprise" designed a portable bag capable of producing methane gas. The said bags act like "digester(s)" that turn into a portable biogas 'plant' which generates methane gas from animal droppings and food wastes. This model of biogas production can be of help to "low-income entrepreneurs" in Africa which turn into a franchised solution to "make a living".
Moreover, these bags are resistant to heat and fire which also have a pipe and a tap that can be attached directly to a gas stove while the bag acts like a cylinder. The total holding capacity of these bags is "1.2 cubic meters", which can allow one to cook for around five hours continuously. Ethiopia holds two franchisees of this business, another one can be found in Sudan. Although still in its premature stages, B-Energy aims to device a "clean" and "cheap" cooking solution as oppose to wood fires that cause pollution whereby it strives to achieve its goal through these portable biogas bags. As cooking on wood fire is a common phenomena and an age old practice that is still prevalent all through the poor regions of the world, adding much to the global pollution scale.
The B-Energy's estimated price of the digester bags for its franchisees will be around "$441 and $900" which will be determined by the location of the respective franchisee, reports BBC. In fact, one can also avail extra empty bags at the price of $48 each. B-Energy also recognises that the prices of these bags could be high for some countries. Therefore, it is in the process of negotiating with the sponsoring bodies so as to allow instalment payments to franchisees.
Nevertheless, the company does not want to entertain any free distribution as it wants to instil the franchisees with an entrepreneurial culture. On the other hand, the company also rejected all financial support from any outside agencies or charities for it wants to demonstrate that "its business model can stand on its own". Even though, Ethiopians are familiar with biogas, the "inflatable bags" of B-Energy allows it to be portable whereby facilitating transportation and allowing people to easily "buy and sell". Yet, these bags may not be a suitable option for city dweller due to space constrains, as they come in "large" sizes.
Nevertheless, besides biogas, the "global South" holds numerous opportunities for investors interested in "cleaner technologies", writes SB, which informs further:
"Over the next decade, investments in clean technologies in emerging markets are estimated to exceed $6 trillion, of which $1.6 trillion represent business opportunities for small and medium enterprises, according to a 2014 report by infoDev/World Bank Group in collaboration with the Carbon Trust. The most promising opportunities are in wastewater treatment, onshore wind, solar panels, electric vehicles and small hydro".
References:
http://www.sustainablebrands.com