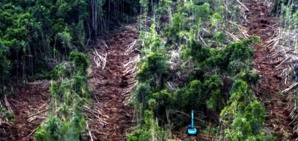 Dailycsr.com – 14 September 2015 – The "Asia Pulp & Paper Group" has made announcement towards its green commitments, whereby it will "retire" around "7,000 hectares" from its "commercial plantation areas" in order to protect save guard the threatened peatlands which are rich in carbon. This action has been unprecedented, wherein plantations groups are concerning themselves about global conservation of nature and thus, retiring its commercial areas.
The Indonesian Peatlands are representative of "one of the single largest terrestrial sources of greenhouse gas emissions" on a global scale. Once the said areas, which spread over "five individual acacia plantation", are retired, the government of Indonesia can move easily towards fulfilling its target of twenty six percent greenhouse gas emissions by the year of 2020. The "identified" areas undergoing retirement will be given attention to implement "immediate rehabilitation" as per the recommendation of "the applied research institute Deltares". Moreover, APP also has an established "Forest Conservation Policy", which along with "Free and Prior Informed Consent" will be taking charge of the rehabilitation process.
The Sustainability section's managing director, at APP, Aida Greenbury's informs:
"APP's decision to retire these areas of commercial plantation is an important milestone in the delivery of our Forest Conservation Policy and we believe it is an unprecedented commitment. The retirement of active plantations is not an easy decision for any business to take, but we believe that taking urgent steps to protect remaining areas of peatland forest, as well as reducing and avoiding climate emissions from peatlands, must be a priority. While there is still a long way to go, and we have much to learn, this announcement today represents a major breakthrough.
While she also adds:
"However, the reality of protecting peat landscapes is that no one company like APP can do it alone. APP's goal of supporting the conservation of forest and peat landscapes needs to be a shared objective, and one supported by meaningful actions from both the Government and other plantation companies. This should include addressing the systemic barriers to forest and peatland protection, supporting forest restoration and ensuring development opportunities for communities."
The announcement made by APP in this regard formed part of company's commitment towards establishing "a science-based landscape approach" which will provide the best practice for peatland management as a pilot project to help "the Indonesian government and plantation companies". In fact, the FCP launched by the APP also issued an "immediate moratorium" in the year of 2013 on "natural forests and new peatland development".
Furthermore, APP in collaboration with Deltares is to conduct the mapping exercise of the "tropical peatland areas" with the help of "LiDAR remote sensing technology". The LiDARs are "deployed" from aircraft whereby it enables the rough mapping of the area which covers "a quarter of all Indonesian peatland" including APP's suppliers' locations. The total acreage of the said area is "4.5 million hectares" which is equal to Pennsylvania or Switzerland. Deltares' "programme leader", Dr Aljosja Hooijer states:
"APP has a unique opportunity to support peatland forest conservation and emission reduction. The progress announced today is a first step in a process towards the development of a new model to define best management practices in peatlands. The pioneering approach to collecting LiDAR data has allowed the technology to be deployed at an unprecedented scale economically, and will advance the science of peat and peat management not only in Indonesia, but also globally."
References:
http://www.sustainablebrands.com