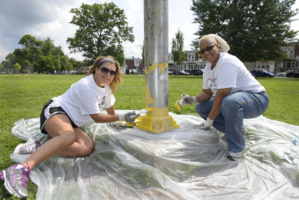 Dailycsr.com – 24 July 2015 – The task of cleaning up the Hunting Park at Philadelphia was completed with the collaboration of the employees of UnitedHealthcare and the "Philadelphia Freedoms tennis team". The volunteers lent their hands in trimming the tennis court, clearing the trashes, painting basket ball hoops and placing mulch around newly planted trees.

The Hunting Park is being turned into a community garden which will provide recreational space to community dwellers, whereby they will also be able to access park amenities. Moreover, there is also a plan of holding a farmers' market on a weekly basis so as to facilitate the supply of fresh and healthy food to the locals. At present, the park has reached its second phase of the "revitalization plan". The said project is an attempt of the "Do Good. Live Well." movement which looks to "fight hunger and obesity" in the town.

The rejuvenation programme of Hunting Park to create a beautiful place which will thrive as an active field for encouraging people to adapt healthy ways of life whereby preventing obesity. The executive director of Pennsylvania's UnitedHealthcare, Dan Tropeano expressed his gratitude by saying:
"We are grateful for the opportunity to work with the Philadelphia Freedoms and the Fairmount Park Conservancy to give Philadelphians a safer, more beautiful place to be active and healthy," said Dan Tropeano, executive director, UnitedHealthcare of Pennsylvania.

On the other hand, Philadelphia Freedoms' general manager cum vice president, Barbara Perry seemed really excited about this joint social venture. Perry's words were:
"We are thrilled to build on our continuing support of Hunting Park through our association with UnitedHealthcare. This partnership will help beautify a special place for the people of this community."

Philadelphia Freedoms is Mylan World's TeamTennis which was established by Billie Jean King, while UnitedHealthcare has a hospital network that serve one million people of Pennsylvania with its two hundred forty six hospitals, wherein "49,000 physicians" are at work. Like Philadelphia Freedoms and UnitedHealthcare, various employees of other companies have taken an initiative to volunteer in this project.

Business Wire reports that the tennis team of Philadelphia Freedoms is scheduled to "play 14 matches during their 2015 regular season" out of which seven will be played at the home ground. Moreover, the team consists of
Taylor Townsend
Marcelo Melo
Robby Ginepri
Coco Vandeweghe
Asia Muhammad
Abi Spears

Recreational efforts directed towards park at Philadelphia aims to contribute to "the prosperity of the city" whereby facilitating
"...the progress of her (Philadelphia's) people through intentional and sustained stewardship of public land and waterways as well as through safe, stimulating recreation, environmental and cultural centers."