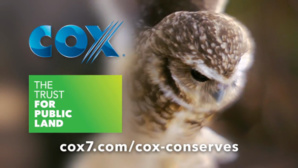 Dailycsr.com – 03 May 2016 – The fifth annual "Cox Conserves Heroes" Awards of Arizona created by Cox Communications and its partner The Trust for Public Land welcome the nominees for the year of 2016. The local "environmental nonprofits" will receive a donation amount of "$20,000" which will come on the finalists and the winner's behalf.
The nominations for volunteers from the area of "Phoenix and Southern Arizona", who are either preserving, enhancing or creating "outdoor spaces" will be accepted on the 6
th
of May 2016 "through 5 p.m. MT" at
www.cox7.com/cox-conserves
The panel of judges will consists of "civic and environmental leaders" who will hand-pick the "three finalists" for eventually declaring "Arizona's 2016 Cox Conserves Hero". An online public voting system will determine the winner of "$10,000". The recipient, in turn, will donate the entire amount to the "nonprofits" of its choice.
Moreover, the activities conducted by the nominees should be on a "volunteer basis" and not as a "part of an individual's employment".
The local sponsors of "Arizona's Cox Conserves Heroes program" are "Bruce Munro: Sonoran Light at Desert Botanical Garden, which is being offered every night through May 8th. Southern Arizona's Marilyn Hanson, Scottsdale's Melinda Gulick, Tucson's Brad Lancaster and Phoenix's Greg Clark are previous recipients of Arizona's Cox Conserves Heroes award".
Below are a list of nonprofits who have financially benefitted from "Cox Conserves Heroes program" either through a finalist or a winner:
Arizona Native Plant Society,
Desert Harvesters,
Living Streets Alliance,
McDowell Sonoran Conservancy,
Mission Garden,
Nina Mason Pulliam Rio Salado Audubon Center,
Phoenix Mountains Preservation,
Southern Arizona Buffelgrass Coordination Center,
Tigermountain Foundation,
Trout Unlimited Arizona State Council,
Wild At Heart,

Furthermore, Ethicalperformance writes:
"Cox Conserves Heroes also takes place in Calif., Ga., Fla., La., Mass., Va and Wash. Through the national Cox Conserves Heroes program, more than $600,000 has been donated to environmental nonprofits and more than 150 volunteers have been honoured".



References:
ethicalperformance.com