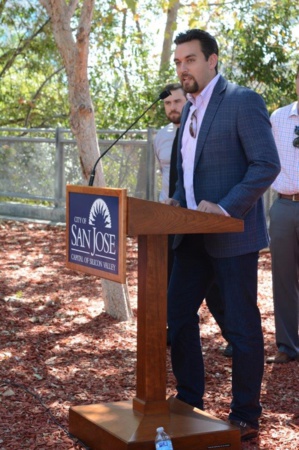 Dailycsr.com – 29 December 2015 – The world leader of "Open Source-driven Software-Defined Storage", Nexenta, announced that it will sponsor the "Gateway Beautification Project", while it will receive support from "San Jose Mayor, Sam Liccardo and Downtown Streets Team". The latter is a "non-profit organization" that strives to put an end to homelessness.
In the said attempt, Nexenta restores and rebuilds houses, while the Gateway Project keeping Nexenta's aim intact adds on to the endeavour of beautifying and taking care of the environment of San Jose.
Moreover, BusinessWire informs:
"Nexenta is sponsoring a gateway sign near the 82/Alameda 880 highway interchange, which will be marked in bright blue and easily spotted at the nearby on-ramps. This sponsorship is another example of Nexenta's ongoing commitment to giving back to their local community. This year alone, in addition to backing the Gateways Project, Nexenta partnered with the Colorado Technology Foundation to help bridge companies to STEM education, technology and workforce programs in Colorado".
Nexenta was also deepened its links with "the Silicon Valley Education Foundation". The latter organised the "11th Annual Pioneers & Purpose Gala" and the former played the role of the host. Additionally, the event raised "$1.3 million" which was used in support of the Californian "K-12 education". In the C.E.O cum the Chairman at Nexenta, Tarkan Maner's words:
"Nexenta is honored to back the incredible work that Downtown Streets Team and Mayor Liccardo are doing with the Gateway Project. Giving back to our local community by creating opportunities of empowerment and support is of huge importance to us and our Gateway sign is an ongoing reminder of our dedication in this regard."
Besides, beautifying the locality, Gateway Project will also share "social responsibility" when it comes to fight against homelessness. Moreover, Downtown Streets Team looks forwards to build up a connection with cities by beautifying the neighbourhoods. Women and men, even homeless ones, are welcome to join in this endeavour.
References:
http://www.businesswire.com/