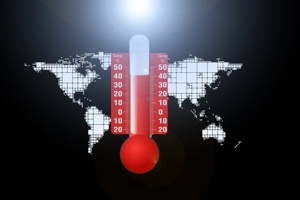 Dailycsr.com – 10 January 2019 – The IPCC, namely the "International Panel on Climate Change", came out with its recent edition of "Special Report on Global Warning" describing a dismal portrait of a future if no "immediate and far-reaching action" are taken to curb the greenhouse gas emission – a task that seems to be a "difficult" one given the fact that the emissions are on a growing graph.

If the global temperatures were to rise beyond 1.5°C, the world will be facing severe consequences of climate change risks, advises the report. Earlier, the "Science-Based Targets Initiative" as well as the Paris Agreement has set the temperature rise threshold at 2°C. Therefore, one can wonder that the ".5" reduction in the threshold seems anything but dramatic, but the said change "will have considerable impact on the depth of and timeline for climate action".

Even though, the implications of the IPCC report on the environment and the economy seems to be threatening, they leave room for bringing in a positive change for we do possess the "strategies and technologies" to put an end on the greenhouse emissions. And, it is most encouraging to learn that the corporate sector, the education sector, the cities and towns at large along with "other institutions" are ready to lead the way by "adopting these solutions at scale".

In fact, most companies are likely to carry on innovating and bringing in "new, and even more effective services and tools to market", whereby paving the way towards a "carbon independent and circular" economy.

Following is a list with a few points to consider, as mentioned by Schneider Electric:
"Nearly 500 companies have already committed to reduce their emissions in line with the previous
2-degree target through the SBTi, a joint coalition of the UN Global Compact, CDP the World Resources Institute and the World Wildlife Fund.
"Companies are adopting renewables at a breakneck pace. In 2018, U.S. corporations are on track to surpass 5 gigawatts of clean energy procurement, a new benchmark. Markets are also ripening for corporate purchasers in Australia, India and throughout Europe. And China and Latin America aren't far behind.
"Corporate energy intensity can be dramatically reduced through efficiency programs. Over a 20-year period, more than 50 percent of global energy savings occurred in China, thanks to the country's emphasis on reducing energy consumption in the industrial sector.
"Even the heaviest emitters can get to virtual zero, according to a new report from the Energy Transitions Commission, which proposes that industries like steel, cement and aluminum have the means to dramatically reduce emissions through efficiency and demand management programs".

Among the key points to consider in aligning corporate operations with "IPCC findings", would be a transition to "renewable electricity" besides "reducing energy and resource consumption through efficiency programs, and managing demand through circularity". Here are some additional points to consider upon, as mentioned by Schneider Electric:
"If you are a SBTi signatory or renewable energy leader, now is the ideal time to exercise your material influence by encouraging your supply chain partners, competitors and others to set SBTs.
"If you are a SBTi signatory, assume that the updated guidance will affect your organization. Begin planning now to adapt to this change and accelerate carbon-reduction plans for the overall health and resilience of your business.
"If you haven't set a SBT, the initiative is a leading indicator for investors of climate change preparedness. By understanding your emissions pathway, you'll have a greater understanding of where you are exposed to future legislation, market forces, investor pressures and more. [One potential outcome of COP24 and the IPCC report is carbon taxation or penalization; reducing emissions will become a way to avoid financial impacts of new legislation.]"


References:
3blmedia.com