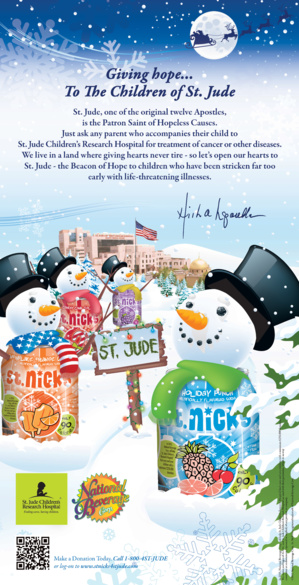 Dailycsr.com – 15 December 2015 – National Beverage Corp. has been continuing its partnership with the St. Jude Children's Research Hospital for the last twenty three years, whereby the former launches an invitation for all to take part in its "mission" of donating for St. Jude's children so as to "convert 'Hope' to 'Cures'".
St. Jude was inaugurated in the year of 1962 and since its inception it has worked hard and brought about a significant improvement in the children's life in all over the world. In order to do so, St. Jude has conducted "pioneering research and treatment" of children suffering of "catastrophic diseases" like cancer amongst others.
Children are not turned away from treatment at St. Jude even if the family does not have the "ability to pay", while the chief executive officer cum the chairman of St. Jude, Nick A. Caporella, remarked:
"St. Jude, one of the original twelve Apostles, is the Patron Saint of Hopeless Causes. I don't think anyone can embrace the message of Hopeless Causes more fervently than a parent who accompanies their child to St. Jude Children's Research Hospital. It is up to each of us to give parents and their precious children . . . HOPE – hope that the very next treatment is . . . the CURE. Join us in honoring St. Jude as the Beacon of Hope to all children who have been stricken with life-threatening illnesses".
Taking forward the same endeavour, the National Beverage came up with "St. Nick's holiday drinks" almost "two decades ago". The aim of the project was to promote "the trailblazing research and exceptional care of St. Jude". Moreover, the "St. Nick's holiday drinks" sport the "unique St. Jude 'Thanks and Giving' logo".
In an attempt to help further with the "lifesaving mission" of "St. Jude Children's Research Hospital", National Beverage has pledge through a one page ad in the USA Today for consecutive twenty three years. The same was done in the hope of inviting all the readers of the ad to "contribute their generosity to the miraculous work of St. Jude Children's Research Hospital". Moreover, besides making purchases at St. Nick's drinks, the consumers can also donate online by visiting
www.stnicks4stjude.com
or by calling up "1-800-4STJUDE".
References:
http://www.businesswire.com/