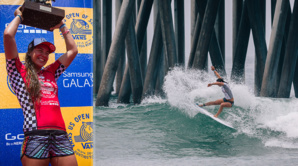 Sixteen participants have made it to the second round of the annual
Battle for the Breasts
contest. As cheesy as that sounds, the contest is presented by
Ambry Genetics
, a virtual surf video contest on
Surfline.com
, and is hosted by the
Mauli Ola Foundation
.
In this competition you will get to see some of the world's best female surfers go head-to-head surfing as they try to emerge winners and move on the next round. The contest will be held in October, which is very appropriate, considering, that the month is associated with breast cancer awareness. The genetic testing vouchers have been donated by Ambry Genetics on behalf of Mauli Ola Foundation.
"Early detection for breast cancer is the key to making this disease curable. Targeting women to appropriate screening, based on their personal or family history, or genetic testing results, is the most effective mechanism we have for preventing breast cancer and saving lives," said Charles Dunlop, CEO of Ambry Genetics.
In this event, surfers will get a chance to represent any of the 16 cancer centres / clinics for a chance to win up to $125,000 worth of vouchers for hereditary breast cancer testing. The top 4 surfers will most definitely receive vouchers for genetic testing from the foundations that they represent. The remaining 12 surfers will also receive vouchers, but these will be for a comprehensive BRCA1/2 analyses.
Depending on their overall ranking, the surfers can collect their vouchers from Ambry Genetics in order to access their respective clinics.
"We're super excited to bring back the second installment of this powerful charity surf event. Not only do we get to highlight some of the best women's surfing in the world, but also raise awareness while supporting such a great cause," said Mike Cianciulli, Event Producer.
"The key to surviving breast cancer is early detection. By pairing the top sixteen professional women surfers with these cancer foundations and clinics, our goals are to educate a younger audience, provide aid to those who don't have access to genetic testing and simultaneously elevate the sport. The Battle is real," said Hans Hagen, Mauli Ola Foundation Executive Director.
About Mauli Ola Foundation
Mauli Ola Foundation
(MOF) is a 501 (c) 3 NPO dedicated to providing confidence and hope to individuals coping with genetic health issues. Harnessing the healing properties of surf, sweat and sand and it has made the best use of the surfing sport to access its natural therapeutic values.
About Ambry Genetics:
Headquartered in Orange County, California,
Ambry Genetics
is a commercial clinical laboratory which is certified by Clinical Laboratory Improvement Amendments (CLIA) and accredited by the College of American Pathologists (CAP).
Since its very inception in 1999, it has been recognized as leading provider in genetic services which focuses on genomic services and clinical diagnostics and specializes in the sequencing and related services. Its reputation of unparalleled service is unblemished and it is squarely at the forefront of technologies concerning the molecular diagnostics market in order to further push the boundaries of research into diseases.
Source: Businesswire.com