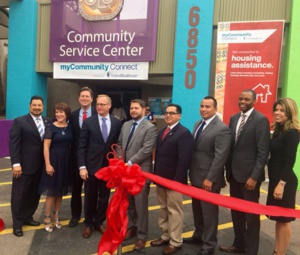 Dailycsr.com – 05 March 2016 – Chicanos Por La Causa, Inc. along with UnitedHealthcare has inaugurated a community centre that is located at Phoenix' Maryvale neighbourhood for broadening the access to "social services for low-income residents".

The said centre has been named "myCommunity ConnectTM Centre" and forms part of the "myConnectionsTM pilot program" developed by UnitedHealthcare for "low-income individuals and families" whereby giving them access to essential medical behavioural and social services for significantly improving their "health and quality of life".

People enrolled under Medicaid face more challenges in "social or financial" fronts rather than health issues projecting the lack of "safe and affordable housing" besides convenient travel systems to get to "needed services" and job. At this juncture, myConnections plays a missing role and organises "support services for consumers" by integrating and distributing the same. As a result people get better access to "safe housing", convenient transportation, up to date education along with "job training".

In the words of the Chief Executive Officer at "UnitedHealthcare Community & State", Austin Pittman:
"We launched the myConnections pilot program to offer a comprehensive community-based service model to integrate, organize and distribute support services associated with improving people's lives while driving savings across the health system. We are honored to work with trusted community-based organizations such as CPLC to support healthy communities. Our partners have been instrumental in helping us open the doors to this Community Center, and we are grateful for the opportunity to help people get on the path to better health."

The list of people given by BusinessWire who attended the inaugural function of "myCommunity Connect Centre" goes like this:
"Congressman Ruben Gallego; State Representatives Rebecca Rios, Ceci Velasquez, and Reginald Bolding Jr.; Phoenix Mayor Greg Stanton, Vice Mayor Daniel Valenzuela and Councilman Michael Nowakowski; Peoria City Councilmember Bridget Binsbacher; David Adame, President & CEO, Chicanos Por La Causa; and Austin Pittman, CEO, UnitedHealthcare Community & State".

Furthermore, Adame also stated:
"We are honored to be partnering with UnitedHealthcare to continue to build on our mission of helping Phoenix residents become economically empowered as they pursue their educational and life goals. We look forward to collaborating with UnitedHealthcare as we pursue our combined goal of promoting healthier living within our communities."

In fact, comprehensive services provided by The myCommunity Connect Centre will also cover "mobile food markets and women, infant and children (WIC) services, as well as medical, behavioral and dental services". There six components of the programme:
"myCommunity ConnectTM – Facilitates access to social services.
"UnitedHealthcare myWork Connect – Helps unemployed adults achieve the skills needed to obtain living-wage jobs.
"myHousing ConnectTM – Connects low-income individuals with appropriate housing to reduce health care costs, improve outcomes
"UnitedHealthcare myData ConnectionTM – Improves communications and information-sharing across social service providers to enable whole-person health.
"UnitedHealthcare myMoney ConnectTM – Creates more efficient, cost-effective access to money, integrated with a wellness rewards program.
"UnitedHealthcare myRide – Improves access to nonemergency medical transportation service.