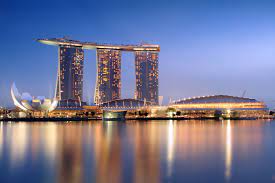 This year, Marina Bay Sands has earned top honors at the Singapore Tourism Board's annual Singapore Tourism Awards (STA). Marina Bay Sands has won 5 honors, the most of any other nominee.

Its accolades included 3 special distinctions for Most Exemplary Employer, the Special Award for Community Care as well as Special Award for Sustainability.

The accolades are considered to be one of Singapore tourism's most prestigious honors. The Singapore Tourism Awards also recognized Marina Bay Sands for delivering best-in-class experiences at the Sands Expo and Convention Centre with its eighth Outstanding Event Venue Experience award.

The Shoppes at Marina Bay Sands won its fifth Outstanding Shopping Mall Experience award.
"These awards recognize the unparalleled business and leisure experiences Marina Bay Sands offers visitors, as well as the resilience of our team as we navigated through the pandemic challenges over the last two years and the emphasis we place on responsible business performance," said Paul Town, Chief Operating Officer, Marina Bay Sands while adding, "To receive the largest number of STA wins since our opening is a tremendous endorsement of the elevated experience we deliver to guests, the outstanding dedication of our Team Members and the impact we provide in good corporate citizenship."

Marina Bay Sands made commendable efforts to protect the livelihood and jobs of its 10,000-strong workforce during the pandemic. To this end it won one of the biggest accolades – the Most Exemplary Employer Award.

During the COCID-19 pandemic, the property retained jobs without salary cuts, while providing impactful programs that actively encouraged Team Members to increase their skills and remain engaged.

The Singapore Tourism Awards also recognized the emphasis Marina Bay Sands places on addressing social issues and supporting people in need through the Sands Cares community engagement program.

In 2021, Marina Bay Sands contributed to more than 8,300 volunteer hours through 34 community events, supporting more than 24,600 non-profit beneficiaries.

It also won a Special Award for Sustainability underscoring Marina Bay Sands' leadership qualities in seamlessly blending unrivaled accommodations and leisure amenities with a deep commitment to protect natural resources and reducing impact on the environment.