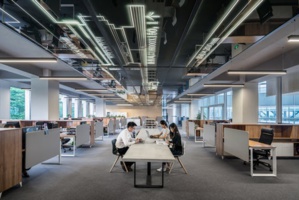 Dailycsr.com – 17 June 2019 – It has been two years since Hallmark had started on its several initiatives of "creating work spaces" for fostering "employee productivity" besides being an "energy-efficient" as well as environment friendly establishment.
Following the consolidation of Hallmark's employees into one building in Kansas City, the Crown Center received "two major tenants in 2017" for leasing out the empty "85-acre campus" space which went to "BNIM architects and Crestwood Equity Partners".
In the words of the Vice President of Corporate Facilities and Real Estate at Crown Center, Nathan Guffey:
"We wanted to attract new tenants to these 1970s-era buildings that would help improve the infrastructure of our office space".
"For BNIM, one of the draws of Crown Center is the historical significance of our architecture and our long-standing commitment to reducing energy, waste and water consumption."
Upgrading and modernising of the facility was taken up by both the tenants as they chose "open floor plans" allowing higher employee density and more collaboration space which were accompanied by automated LED light systems which would optimise energy consumption while "low-flow plumbing" was set to reduce water usage.
Moreover, BNIM ever incorporated old doors from "different office building as design elements" in the new space.
On the other hand, after vacating Crown Center, Hallmark made sure to clean the facility and reinstall "the carpet in its main headquarters facility" whereby preventing them to end up as landfill which in turn saved nearly "$130,000" and reduced environmental waste. Furthermore, Guffey explained:
"We're continually looking for ways to reuse, repurpose and recycle office furnishings. It makes sense financially and environmentally."
Talking about energy efficient buildings, in 2017, Hallmark also started a "new fitness" centre featuring "exposed ceilings" which saved building materials and LED light systems which resulted in a 60% reduction in its energy consumption over the "first four months of operation".
Similarly, after a "mass transit station" came up near the Hallmark office building in Hong Kong, it gave out a "positive sign" which meant the rents were going to hike up. As a result, in "September 2017, the 155-person Hong Kong team moved their offices into a refurbished industrial building". In the new establishment, the focus remained in making "energy-efficient choices" be it for "lighting, air conditioning and office design".
The Managing Director, "global procurement and Asia-Pacific", Dave Saunders added:
"Going into a revitalized area and renovating an existing building has a better environmental impact than new construction".
"We made decisions to help save energy and reduce the environ- mental footprint."
The use of natural light was advantageous through open ceiling and glass walls while LED light system proved efficient. In the words of the "finance and business operation services director", Maggie Lam:
"To reduce our energy consumption, we split the office into five zones with timers to have more control over the LED lights and the air condition- ing system throughout the day".
Even though, the new space was twenty percent smaller in comparison to the previous building, the former's space was used more efficiently by "lowering partition walls, reducing desk and storage space and creating more areas for employees to collaborate". According to Lam:
"In our revitalized industrial building, we have lower rent and a lot of flexibility to make a better working environment. We use office plants to improve air quality and have implemented a recycling program as well."
For further information about Hallmark's green infrastructure commitment, you can avail its "2017 Caring In Action Report" by clicking on the link provided below:
http://bit.ly/2017HallmarkSRR3BL
References:
3blmedia.com