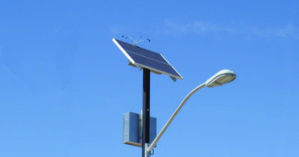 Dailycsr.com – 11 November 2015 – The Tata Power, being the "largest integrated power company" of India, has its commitments towards the communities, whereby it is dedicated to:
"...inclusive growth and development of the communities living in and around its areas of operation".
Being true to its commitments, Maithon Power (MPL), a "74:26 joint venture" of Tata Power and the "Damodar Valley Corporation", installed "special solar-powered street lights" in the village roads that are situated around the "Maithon power plant".
The villages and streets around the plant were facing "acute load shedding" whereby the streets and other "common places" were mostly "un-illuminated during the night" causing extreme difficulties and dissatisfaction among the villagers. Tata Power recognised that there is a "need for smooth inflow of electricity", whereby the company acted on the issue and put up almost two hundred twenty solar lamps in the "key locations of the villages". The places were selected after discussing the matter with "community members" and consulting the "Sarpanchs" or the head of the villages.
This is a helpful gesture on the company's part, it intended on aiding the community in navigating the roads that remained dark at night without electricity. Besides, clarity of vision will also prevent many road accidents, save villagers from getting bitten by snakes, and allow cultural and social gathering to take place in public areas. Moreover, Tata.com informs:
"Further, during installation, Tata Power identified local youths from the community who were subsequently trained on the technicalities of the street lights by Tata Power Solar Systems technicians. This effort would enable the youth to maintain solar lights as a vocation and be eligible to join other solar system companies for installation work".
While, the Chief Executive ifficer and the ED, at Maithon Power added:
"We are delighted to have made a difference to the quality of lives of our communities. This initiative reiterates our commitment towards rural electrification, and re-affirms our focus on renewable energy resources. By imparting technical training, we aim to enable the youth of our community towards progress building through a sustainable approach. We encourage our stakeholders to use renewable energy sources such as solar power. Initiatives such as these are a part of Tata Power's long-term sustainability agenda, and a step towards achieving a greener environment."
In the course of phase one of the project, MPL installed almost hundred lamps, while at present, over three hundred twenty solar lamps have been successfully installed by MPL.
References:
www.tata.com