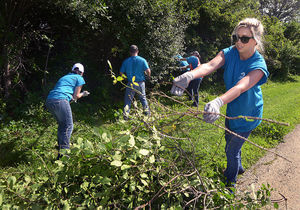 Living Lands & Waters is an organization that promotes the vitality and health of inland waterways in the United States. So as at to help sustain its activities, Archer Daniels Midland (ADM) Company has printed it with a $325,000 donation. The event took place at a volunteer cleanup at Starved Rock State Park in Oglesby, Illinois.
Archer Daniels Midland Company has supported the activities of Living Lands & Waters since 2004. To date it has donated more than $1.7 million to support its activities. The funds will be utilized to expand the scope of their cleanup, including adding more rivers and waterways in its cleanup projects.
Living Lands & Waters has set a goal of removing 1,000,000 pounds of garbage from the rivers and waterways this year. This is three times the amount they have accomplished in previous years.
The founder of Living Lands & Waters, Chad Pregracke, said, "ADM recognizes that America's inland waterways are vital arteries whose health is essential to our nation's economy, our communities and our wildlife. The company's support of Living Lands and Waters demonstrates real commitment to ensuring that these waterways are healthy and navigable."
More than 200 hundred volunteers under the supervision of experts from Living Lands & Waters helped remove debris from various areas in the park, which had been recently flooded.
"It's truly impressive to see how much can be accomplished in just a few hours when organizations like Living Lands & Waters and ADM coordinate their efforts," said the site superintendent at Starved Rock State Park, Kerry Novak. "They were able to clean up trails and campground areas and also remove exotic species along the river area in one morning, which would have taken us weeks to accomplish on our own."
The vice president of ADM's operation Ag Services business unit, Jeff Becker chipped in saying, "Cleaning up our nation's waterways is critically important for numerous communities and industries, as well as ADM's own transportation network. It's also an overwhelming task, and we're proud to support Living Lands & Waters not just with funding, but also with man-hours at volunteer events like the one today at Starved Rock State Park."
ADM's donation to Living Lands & Waters was routed through ADM Cares- a social investment program though which funds are directed to organizations and initiatives for meaningful economic, environmental and social progress worldwide.
The primary area of its focus is improving the quality of life in ADM communities, development of agriculture, volunteering activities and fostering donation drives through its employees.
About Livings Lands & Waters
A 501(c)(3) organization, Living Lands & Waters has been founded by Chad Pregracke in 1998. It is headquartered in East Moline, Illinois. It regularly conducts a variety of programs and initiatives including Big River Educational Workshops, Adopt-a-River Mile, the MillionTrees Project, the Riverbottom Forest Restoration Project and Community River Cleanups.
About ADM
For more than 100 years, people at
Archer Daniels Midland Company
have reshaped landscapes and the lives. It has helped transform crops into products and has help serve a very basic nutritive need in our growing world.
It is one of the world's biggest food provider and agriculture processor, employing more than 33,000 people and has customers in more than 140 countries. It has 300 ingredient manufacturing facilities, more than 460 crop procurement locations, 40 innovation centers and the world's best crop transportation network which helps connect the harvest to the home. Its makes food for human consumption as well as for animal feed. It has also diversified into energy and chemical uses.
References:
http://www.businesswire.com/news/home/20150715006452/en#.VaeSSaSqqko