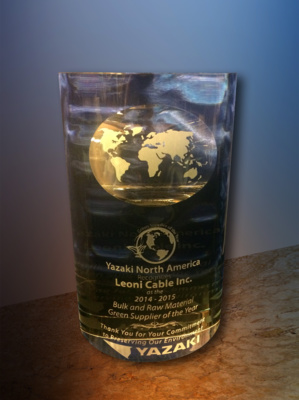 Dailycsr.com – 15 July 2015 – A branch of Leoni Group, situated in North America, namely Leoni Cable Inc., which also happens to be one of the leading cables and its related system provider of Europe, has received Yazaki's "Green Supplier of the Year" award. The company's clients ranges from the European industries to the automotive sector.

Leoni Cable Inc. received the said award in a mark of recognition for its "environmental and social activities" in the north and central part of America. Moreover, the company was selected among the "top 175 suppliers" of the region by Yazaki which cane under the category of "bulk and raw material commodity".

During the award ceremony, the vice president of "Strategic Purchasing", Ken Pichla stated that:
"Yazaki places a very high value on our suppliers and their shared commitment to the environment. Together we can affect significant change for a greener tomorrow."

While the Leoni Cable's President, Mr. Bill Livengood added by saying:
"We are honored to be recognized for our environmental initiatives and results. Our company takes its social responsibility seriously and works to carefully balance economic, ecological and social requirements."

The selection process of Leoni Cable took place in parts because the company has made its commitments towards making a "continuous improvement" from the "environmental initiatives" which will reflect throughout the company. Likewise, the company has successfully reduced its annual water consumption by four million gallons which equals to fifteen million liters. The said feat was achieved by "introducing various water management techniques" whereby avoiding wastage. The company of Leoni Cable has also introduced "returnable packaging" system along with "increased internal recycling" whereby it has managed to reduce more than "30,000 tons of potential landfill material" on an annual basis.

Keeping the energy requirements involved for the "manufacturing facility" in Mexico's Cuauhtémoc, the company has plans of establishing "solar farm" which will generate electricity in order to fulfill "the majority of the company's electricity needs". These green attempts of Leoni are supported by the company's engagements on the community level whereby it tries to:
"…bring awareness to the importance of environmental topics to workers and the population at large".
Moreover, Leoni has also been actively involved in creating various "educational programs" for local schools. In fact, company also organizes educational trips to the factory for school children who witness a green business attempt so as to give them a firsthand experience that "industry and the environment can work together". Leoni hopes to inspire the children to come out with their imaginative ways of impacting the environment in the near future.
The concept of sustainability is ingrained in the in the very building blocks of Leoni's group policy. Consequently, the company took the first steps in the world, among the cable manufacturers, to "develop" a comprehensive all encompassing "green technology" concept. The said attempt was a result of genuine striving for creating "energy-saving and environmentally friendly processes, products and applications".
References:
http://www.businesswire.com/news/home/20150708005593/en#.VaZ28_mqqko