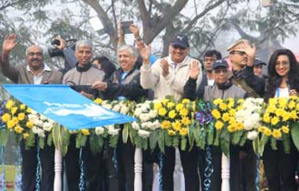 Dailycsr.com – 28 December 2015 – On the 20
th
of December 2015, "Tata Steel Kolkata 25km" run, came back to the city with its "second edition", whereby Kolkata was abuzz. The said metropolitan city of India saw people taking part in the TSK25K run with enthusiasm, whereby the participants' count went up to "over 8,200 people".
In an amalgam of participants Kolkata saw "some of India's finest professional athletes" run besides amateurs and even senior citizens who were joined by other "health and fitness enthusiasts".
In fact, the Governor of the West Bengal State of India, Keshari Nath Tripathi himself put on the role of a participant of "10 km race category" along with the "senior management of Tata Steel" which even included the Managing Director of "Tata Steel India and SEA", TV Narendran; furthermore:
"Sunil Bhaskaran, vice president, corporate services, Tata Steel; Dibyendu Bose, group director, investment and new ventures, Tata Steel; Peeyush Gupta, vice president – Steel (M&S), Tata Steel, and Chanakya Chaudhary, group director, corporate communications and regulatory affairs, Tata Steel, flagged off various race categories".
The event was also graced by various celebrities like cricketer "Yuvraj Singh", film actors "Neha Dhupia, Rituparna Sengupta and Moubani Sarkar", who were joined by "Member of Parliament, Dev", being the "face of the 2015 edition of TSK25K", in the spectators' crowd to "cheer" for the participants.
As per the Tata Company reports:
"The event helped raise over Rs50 lakh for various charities. For Tata Steel and the Tata group, funds generated from TSK25 will go to the corpus that is being raised to meet the cost of expansion of Tata Medical Center at Rajarhat, Kolkata".
The TSK25K of 2015 has become a "memorable event", says the company as the enthusiastic "runners and spectators" made it possible. In fact, it has also made "the Tata Steel family proud".
References:
http://www.tata.com/