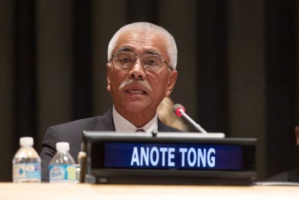 Dailycsr.com – 13 August 2015 – The rising sea level, caused by climate change has been threatening the physical existence of the central Pacific island, Kiribati which has a population of "103,000". Moreover, the island has been recognized as the "U.N. member states" in the verge of extinction.
Fearing the worst, the president of the Kiribati island, Anote Tong, summoned the leaders of the world for a "summit meeting" at the U.N which will be discussing on issuing a "moratorium" to stop new coal mines or the old ones from expanding. He even urged that his plea be backed in the Paris conference this December, whereby he informs:
"It would be one positive step towards our collective global action against climate change and it is my sincere hope that you and your people would add your positive support in this endeavour."
"The construction of each new coal mine undermines the spirit and intent of any agreement we may reach, particularly in the upcoming COP 21 (Conference of Parties) in Paris, whilst stopping new coal mine constructions now will make any agreement reached in Paris truly historical".
The president has received strong support from the Greenpeace International for his intentions. Consequently, the senior portfolio manager of "Climate and Energy at Greenpeace International", Leanne Minshull informs the IPS that burning coal adds to the one third global carbon emission:
"And it's used to produce nearly 40 percent of the world's power".
The devastation caused by coal mining results in deforestation, contamination of soil and water by toxic minerals along with heavy metal, while Minshul adds:
"Coal mining's effects persist for years after coal is removed. Coal also causes damage to people's health and communities around the world. While the coal industry itself isn't paying for the damage it causes, the world at large is".
Minshul also urges that preventive step needs to be taken to stop "widespread" flood, drought, "massive" displacement of people which is bound to follow given the rising sea level are allowed to continue this way. She stresses that:
"…we need to keep global temperature rise below 2 degrees C (compared to pre-industrial levels). To do this, global greenhouse gas emissions must peak by 2015 and from there go down to zero."
The executive director of "Greenpeace International", Dr. Kumi Naidoo is on a visit to Kiribati and he reports as an eye witness that people of the island wants to be vocal about the industrial practices that is accelerating climate change while the government tries to silence them. He says:
"I join President Tong in calling on all leaders of similarly threatened islands to stand together and demand climate justice".
"I have now seen first-hand what a sea level rise means for the people of Kiribati. It is not some scientific modelling or projection – it is real, it is happening now and it will only get worse".
In fact, scientists' union stated that
"…for nearly three decades, many of the world's largest fossil fuel companies have knowingly worked to deceive the public about the realities and risks of climate change."
While Naiboo mentioned:
"We know the science and we know the end of the age of coal is coming. Scrambling to dig up more dirty coal can only be driven by ignorance or sheer disregard for the millions of people at risk from burning it."
"We need international leadership on this issue and a planned retreat from coal involving a just transition for existing workers and developed in consultation with affected communities".
Source(s):
http://www.ipsnews.net/2015/08/tiny-island-nation-pleads-for-global-moratorium-on-new-coal-mines/