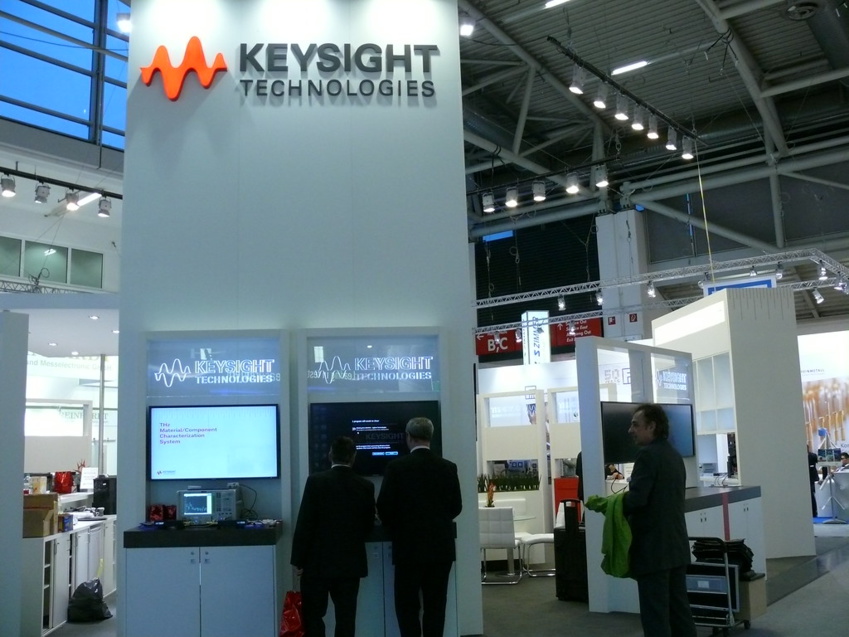 Introducing Keysight Technologies, Inc.'s Remarkable Achievements in 2022
Keysight Technologies, Inc, proudly unveils its highly anticipated 2022 Corporate Social Responsibility (CSR) Report and 2022 Diversity, Equity, and Inclusion (DEI) Report, showcasing the extraordinary milestones achieved in the realm of environmental sustainability, social impact, ethical governance, diversity, and equity.
Surpassing All Expectations: A Resounding Success in CSR for 2022
In a spectacular display of progress and surpassing our own key impact goals, Keysight's 2022 CSR Report takes center stage, revealing the remarkable advancements made by our company. Through unwavering commitment to purposeful technology and an unwavering dedication to transparency through environmental, social, and governance (ESG) reporting frameworks, we have shattered barriers and set new standards.
Embracing a Greener Future: Our Environmental Sustainability Triumphs
Our journey towards environmental sustainability has been nothing short of remarkable. We have set our sights on achieving net zero emissions for our business operations by the conclusion of fiscal year 2040, aligning ourselves with the ambitious goal of limiting global warming to 1.5°C as laid out in the esteemed Paris Agreement. Here are just a few of our notable highlights:
Unleashing Renewable Power: As part of our commitment to a greener world, we have expanded our global renewable electricity portfolio. Notably, we have successfully installed a groundbreaking 5.8 megawatt (MW) peak rooftop solar array at our largest facility in Penang, Malaysia, propelling us closer to a future powered by clean energy.
Conserving Energy, Making Strides: Our unwavering dedication to energy reduction has yielded exceptional results. We have triumphed in numerous energy reduction projects, collectively achieving an estimated 3500 megawatt hours (MWh) of annual energy savings. These remarkable strides bring us one step closer to achieving our energy reduction goals.
Setting the Bar Higher: We are proud to announce our commitment to science-based targets (SBTs) across all scopes of emissions. In 2023, we will diligently prepare and submit these ambitious targets for validation to the esteemed Science Based Targets initiative (SBTi). With this, we aim to make an enduring impact and lead the charge towards a sustainable future.
Keysight Technologies, Inc. has truly set a new benchmark for corporate social responsibility, demonstrating our unwavering commitment to environmental sustainability, social impact, ethical governance, diversity, and equity. With each achievement, we continue to pave the way for a brighter and more inclusive tomorrow.
Prepare to be amazed as Keysight Technologies, Inc. surpasses all expectations and achieves remarkable milestones in its pursuit of positive social impact. By focusing on community and education, Keysight has not only exceeded its goals but has ignited a powerful movement of change. Here's a glimpse into our awe-inspiring achievements:
Empowering Future Innovators: Through visionary partnerships, Keysight has extended its reach in science, technology, engineering, and math (STEM) education, ensuring equitable access for all. We have engaged a staggering 798,000 students, a significant leap from 145,000 in the previous fiscal year. Our unwavering commitment to under-resourced communities has laid the foundation for a diverse pool of future technology leaders.
Building Stronger Communities: Demonstrating our dedication to making a lasting impact, we have committed over $284 million in value to philanthropic endeavors, volunteerism, and community engagement. This exceptional contribution has surpassed our ambitious $250 million goal for the fiscal year, enabling us to uplift communities and strengthen the bonds that unite us.
Upholding Ethical Governance: At Keysight, ethical operations and business commitments are at the core of everything we do. In fiscal year 2022, we proudly achieved our ethical governance goals, ensuring that our income statement remained untouched by any material negative impacts from CSR-related matters. Our robust governance framework, encompassing the Standards of Business Conduct (SBC), corporate policies, board and risk oversight, and environmental, health, and safety programs, serves as a beacon of integrity and responsibility.
Creating an Equitable and Inclusive Environment
In our highly anticipated Keysight 2022 DEI Report, we unveil the extraordinary strides we've made in fostering an equitable and inclusive environment, both within our organization and in the communities we serve. Our goals have revolved around advancing representation in STEM, diversifying our global workforce, nurturing inclusivity, and providing equal access to development opportunities for our exceptional employees.
Advancing Representation: For the second consecutive year, Keysight has set ambitious goals to enhance the representation of women and underrepresented minorities (URMs) in our workforce. We have welcomed over 600 brilliant women and 300 URMs in the United States, surpassing our URM goal by a remarkable 1.7 percentage points. While we fell just shy of our target for hiring women by 2.8 percentage points, our commitment to diversity remains unwavering. These goals are key pillars in our CSR impact goals, driving positive social change.
Breaking Barriers: Our unwavering dedication to breaking down barriers is evident in multiple aspects of our organization. We have achieved our highest-ever rate of women and URMs on the Keysight Board of Directors, surpassing the 50% mark. Our executive roles have witnessed the largest increase of women to date, and we have successfully enhanced the overall representation of women and URMs in leadership positions.
Nurturing Innovation: Keysight has opened doors of opportunity for aspiring innovators worldwide. We proudly hosted 52 women-led university teams for the exhilarating Keysight Innovation Challenge competition, empowering these talented individuals to push the boundaries of technological advancement.
Empowering Historically Black Colleges and Universities: Through our enduring partnerships with Historically Black Colleges and Universities (HBCUs), we have provided scholarships, internship opportunities, corporate advisory engagements with our esteemed executives, and engineering lab equipment grants. By investing in these vital institutions, we are building a brighter future for all.
Igniting Innovation for a Brighter Tomorrow: Keysight's Quest for a Better Planet
Step into a world of boundless possibilities as Keysight Technologies, Inc. unveils its monumental 2022 CSR and DEI Reports, showcasing the company's unwavering mission to accelerate innovation and forge connections that will shape a better planet. Through cutting-edge design, emulation, and test solutions, Keysight empowers its customers to deliver groundbreaking advancements in clean technology, social impact, wellness, and safety and security.
Pioneering Sustainable Solutions: Keysight's Vision for the Future
As we gaze ahead, Keysight remains resolute in its commitment to mid- and long-term targets, striving for net zero emissions across its operations by the conclusion of fiscal year 2040. But our ambitions don't stop there. We are proud to announce a fresh set of metrics that will meticulously track progress in social impact, including diversity, equity, and inclusion (DEI), as well as ethical governance throughout 2023 and beyond.
"Diversity, equity, and inclusion are the bedrock of our culture, fueling our triumphant journey. Our inclusive, high-performance culture is an enduring competitive advantage as we foster continuous learning, inspire innovation, and empower every employee to reach their full potential and deliver unparalleled value to our cherished customers," said
Ingrid Estrada, Keysight's Senior Vice President, Chief People and Administrative Officer, and Chief of Staff .
"Our entire organization remains resolute in our dedication to environmental sustainability, social impact, ethical governance, and enabling customers to introduce purposeful technology to the global community. Our solutions and services propel our customers towards a more sustainable future, championing clean technology, fostering positive social impact, prioritizing wellness, and ensuring safety and security. With unwavering determination, we build upon our momentum across all fronts of CSR, steadfastly dedicated to our mission of creating a better planet," said
Satish Dhanasekaran, Keysight's President and CEO.
Together, let us shape a world that not only embraces progress but nurtures sustainability, inclusivity, and a brighter future for all. Keysight Technologies, Inc. is your steadfast partner, driving the change we seek in the pursuit of a better planet.