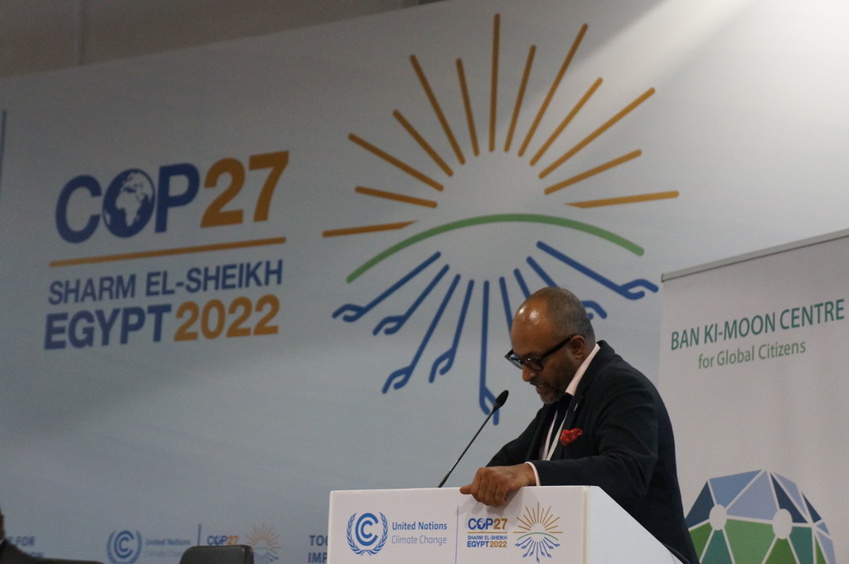 Throughout the COP27 crowd, leaders made a desperate bid to clinch climate deals, with talk of progress and urgent solutions reverberating.

Delegates from 190 countries gathered in Egypt for the global climate conference to discuss the steps needed to address climate change adaptation, climate finance, and decarbonization. However, the event in Sharm-el-Sheikh ran over by several days (making it the third longest COP in history) as leaders battled to reach agreements, causing disappointment in the aftermath of COP27 due to a lack of certainty about how progress can be accelerated.

The Fund for Losses and Damages
The agreement to establish the desperately needed loss and damage fund, a historic outcome that will see rich countries pay poorer countries for the damage and economic losses caused by climate change, was the most significant turning point at the UN summit.

While funds have already been made available to help countries reduce carbon emissions and adapt to rising temperatures, there have been no dedicated funds for countries that have lost everything until now.

For example, the summer flood disaster in Pakistan killed 1,739 people and caused £12 billion in damage and economic losses. The launch of the new fund among vulnerable countries, such as Pakistan, underscored the importance of reestablishing a stark lack of trust at COP27.

Countries strengthened their commitment to limit global temperature rise to 1.5 degrees Celsius (above pre-industrial levels) through a series of decisions made during the two-week conference. This included lowering greenhouse gas emissions, adapting to the effects of climate change, and increasing financial, technological, and capacity-building assistance to developing countries.

Despite the fact that Russia, China, and India did not sign on to the pledge, despite the fact that the latter two are the top methane emitters, 50 signatories have unveiled detailed strategies to reduce methane emissions, with 95% of countries including methane in their NDCs (Nationally Determined Contributions).

Next Steps
With the clock ticking on making tangible progress, momentum is slow, and hoping for a COP28 miracle is out of the question. The Wall Street Journal summarized COP27 as follows:
"It is, in essence, a laundry list of ideas with lots of internal contradictions, making negotiations a formidable challenge."

Innovative solutions and collaboration are critical to meeting the climate target, and financial markets play an important role in assisting with the transition to net zero goals. They have created new innovations to build on products such as green bonds and sustainability-linked loans, as well as new nature-based ideas. This includes 'debt-for-nature' agreements, which allow debt-ridden countries to reduce their obligations in exchange for nature conservation.

Acre was encouraged to see a focus on ocean-based climate action as a partner with the global movement Ocean Generation, with countries strongly encouraged to 'blue' their NDCs.

According to Andy Cartland, Founder and Interim Managing Director - APAC, "COP27 didn't serve to enhance my optimism. With a build-up that promised actions over insight, I fear that we haven't quite hit the mark. However, when we examine all major transformational change in history, we see that it only occurs when a force acts on it. That force, I'm seeing, is growing in today's and tomorrow's sustainability leaders. Leaders who are making significant strides in the right direction on a daily basis; not just advocating for change, but also finding ways to incorporate it back into their companies' bottom lines."

"Perhaps a lack of tangible actions is serving us well. It's stirring an impatience in the people on the ground, and a thirst for meaningful results. Through efforts like the loss and damage fund agreement, it's generating visible layers of accountability that can no longer be ignored. For that, I feel optimistic. For that, more than ever, I feel energized by the opportunity to create systemic change for our planet and society by activating people's potential."

Acre was founded in 2003 by Andy. He is still driving our commercial growth and our commitment to creating systemic change for our planet and society by unlocking people's potential. He collaborates closely with our delivery, marketing, and support teams to ensure that Acre's services provide the most effective recruitment and talent development solutions to our global client base. He relocated to Singapore in August 2022 as part of Acre's expansion into Asia Pacific, and he will work with our dedicated team to maximize our impact across the region.

Andy's commitment to Acre being the world's leading sustainability recruitment firm has resulted in the company growing at a rate that far outperforms the wider recruitment sector year after year. The company was named Recruitment Agency of the Year at the UK Recruiter Awards in 2014 for its innovation, transparency, and positive disruption. We were also named Sustainable Agency of the Year in 2020.

Andy was previously the deputy chair of Global Action Plan, an environmental change charity, and is a trustee and director of Ocean Generation, an NGO.

At Acre, we work with the most aspirational businesses with the potential to make real change, from those just getting started to those well on their way to leaving a legacy.

Our 18 years of experience in sustainability recruitment, combined with our extensive global network, enables us to provide talent solutions that are specifically designed to bring about this change.

We understand the types of people, skills, and behaviors required to make an impact thanks to our proprietary behavioral assessment technology.

We can also help you develop these skills within your existing teams. We find talented people and help them develop their skills so they can make a real difference in ambitious, forward-thinking organizations.

Acre. Getting businesses ready for the future.