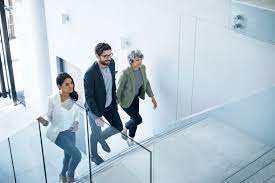 Baker Tilly US, LLP, a leading advisory CPA firm, is excited to introduce its cutting-edge Innovation Lab and dynamic Innovation Ignite program, demonstrating its firm commitment to fostering a culture of innovation that empowers individuals at all levels. The goal is to harness the potential within each person, allowing them to become innovators and catalysts for groundbreaking ideas.
The Innovation Lab, located in Baker Tilly's Madison, Wisconsin office, is a dedicated space designed for collaboration, creativity, and ideation. This space caters to both in-person and virtual participants, offering a welcoming atmosphere adorned with inspiring artwork, comfortable seating, and floor-to-ceiling windows to encourage maximum inspiration. State-of-the-art technology facilitates the sharing of ideas, transforming the lab into a hub of innovative thinking and proactive problem-solving.
Ethan Bach, managing partner of strategy and innovation, emphasized that team members involved in innovation design sprints and experimental projects serve as sources of inspiration, encouraging others to adopt an innovative mindset. They actively contribute fresh ideas that advance bold hypotheses and daring experiments.
One of the prominent initiatives hosted in the Innovation Lab is the Innovation Ignite program, which was launched in May and features an inaugural cohort of early-career professionals. The program's objective is to equip Baker Tilly's professionals with crucial skills in creative problem-solving, analysis, and design thinking. Through immersive workshops and mentorship provided by both firm leaders and external innovation experts, participants are challenged to apply their newly developed skills to real-world challenges while building cross-functional relationships. These challenges encompass enhancing the firm's culture, leveraging the potential of AI, and enhancing client experiences.
"At Baker Tilly, we believe everyone can be an innovator. By embedding innovation into our professionals' career experience and our culture, we give people the tools and frameworks to propel their own creativity and advance our firm's strategic objectives," said
Kristen Russell
, managing director of innovation and solutions. "Equipping our team members with an innovative mindset and preparing them to share and amplify that mindset within their teams is what makes this program so exciting."
The Innovation Ignite program embodies Baker Tilly's core belief that innovation should be a universally accessible pursuit, irrespective of one's role or position within the organization. This program underscores the firm's dedication to nurturing a culture that values creativity, teamwork, and ongoing enhancement.
As Baker Tilly continues to drive innovation across the organization and harness the potential of both the Innovation Lab and Innovation Ignite program, the firm remains resolute in pushing the limits of what is achievable and embracing change as a driving force for growth and prosperity.
To know more about Baker Tilly's Innovation Lab and Innovation Ignite program, click
here
.