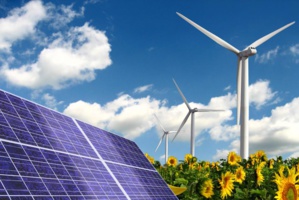 Dailycsr.com, London – 24 September 2015 – The Department of Energy and Climate Change of London informed on Thursday, the 24
th
September 2015, that the renewable electricity generation has touched the highest on record so far. The said electricity generation refers to the total electricity share of Britain, which increased by twenty five percent in the "second quarter of this year".
The favourable weather conditions were the core reason for the increment in the production of renewable energy in the second quarter. There were higher rainfalls, more sun hours and less enough rainfall, added with the installation of surplus solar panels and turbines worked in collaboration to achieve the said amount of energy generation.
During the same period of time, last year, the energy production rates were eight percent lower than that of the current year's figures, whereby the statistic data show that the figure "stood at 16.4 percent".
Starting from the month of April till the month of June, the solar power renewable sector enjoyed the "strongest surge" whereby it jumped the production rate by "114.8 percent" in comparison to last year's figures. Moreover, wind turbines generating electricity also rose by "65 percent year-over-year". Thanks to the "expansion" of wind farms into several offshore investments that took place on a large scale.
On the other hand, even the electricity produced through biomass also increased by twenty six percent from that of previous year's figures, while the report from Xinhuanet stated that:
"In general, gas took up the largest share of electricity generation in the second quarter, about 30 percent of the total. Renewable and nuclear energy came in second and third, while coal fell back to fourth place, with a share of 20.5 percent.
References:
http://news.xinhuanet.com