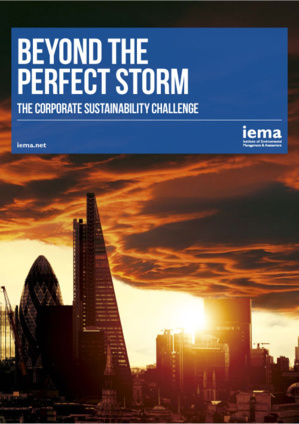 Dailycsr.com – 28 July 2016 – Incorporating sustainability into core business models is becoming increasingly important; in fact the same is being recognised by the leading companies in the world. However, there are certain barriers in "professionals seeking sustainability", for example it is a "long-standing challenge" to depend on return-on investments.
It also requires "positive engagement" of finance if one wants to overcome the difficulties. Additionally, it is also important to prepare "a strong business case", wherein a creative culture is required "across the organization and often with external stakeholders". The IEMA has come up with a new report highlighting the issues that a business facing while addressing the "collective force of global megatrends". The report is titled: "Beyond the Perfect Storm: The Corporate Sustainability Challenge".
The said report alerts that it is better to come out of the usual business approaches and to adapt to innovative "resolution of sustainability challenges". IEMA launched its report in the event of EdieLive, whereby urging the businesses to prepare themselves to tackle the "growing challenges of climate change, population growth, loss of natural capital, water stress, resource scarcity, food supply and global development issues".
The report suggests that innovative models of business and new methods are required to evaluate "return on investment". Moreover, the sustainability professionals need to use their tactical as well as strategic skills to bring in the said change in the business world. According to the lead author of the report, Nick Blyth:
"...unless a transformative shift from short-term thinking can be introduced, businesses – individually and collectively – will be unable to reap the rewards. But the urgency also brings with it an opportunity with very tangible financial and reputational benefits for organizations that rise up to the sustainability challenge".
The "Beyond the Perfect Storm: The Corporate Sustainability Challenge" report includes "inspiring examples of leading companies" who successfully adopted "long-term sustainability practices".
The sustainability professionals are receiving more and more positive response towards their work, whereby more than sixty percent of these professionals consider corporate sustainability can bring about a change and effectuate a transformation that takes into consideration "material issues, impacts and dependencies".
References:
http://www.ethicalperformance.com/