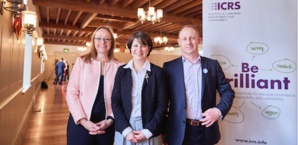 Dailycsr.com – 04 May 2016 – The "Corporate Responsibility and Sustainability" institute has released the "first group of working Fellows". The group is made of six Fellows, who were selected after reviewing their detailed achievements and evaluating the same for gauging their commitment on CSR agenda, whereby measuring the impact of their contribution on ICRS's lon term success.

Not only were the applicants asked to describe their "personal impact and achievements" but they also needed to give an outline on their "active engagement" to support the CSR occupation. Here are the names of the six selected applicants:
Bridget Jackson (Director of Corporate Sustainability, PwC);
Mike Kelly (formerly Head of Living Wage, KPMG);
Sarah Morton-Ramwell (Partner, Global Head of Pro Bono & Corporate Responsibility, Ashurst);
Dr. Dominic Tantram (Partner, Environmental Sustainability, Terrafiniti);
Joss Tantram (Partner, Corporate Sustainability, Terrafiniti);
Andrew Wilson (Director, Corporate Citizenship);
While, the chairperson at ICRS, Claudine Blamey stated:
"Offering Fellowship to the very best CRS practitioners strengthens the profession and the Institute. Those selected have a wide range of skills and experiences and over the course of their careers they have successfully addressed the broad spectrum of issues and challenges that confront those working in the sector".
The "Institute of Corporate Responsibility and Sustainability" represents the "professional(s)" from the U.K. who devoted their career to "responsible and sustainable business" agenda. The said institute strives to support the ones practicing CSR in order to bring out "brilliant: work out of them which can eventually "make a positive difference to society and our planet".
Moreover, the Ethicalperformance informs:
"The Institute helps individual members develop their careers by setting professional standards, qualifying their experience, recognising their achievements and supporting them through continuing professional development".
In fact, it also helps members from various organisations for creating their respective CSR profile by arranging "regular events, seminars and meet-ups" for the members to share their ideas and best practices with "other like-minded companies". In this manner, the CSR network grows in healthy relationships. Any "corporates, SMEs, charities, academic institutions and not-for-profits" organisations can be eligible for the membership.
References:
http://www.ethicalperformance.com/