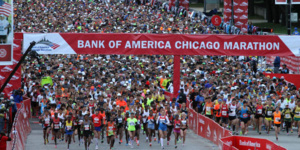 The Bank of America sponsored Chicago Marathon has awarded the Richard M. Daley and Maggie Daley Award to Hillary Gelfman. The award was established in 2010, in recognition of Bank of America's Chicago Marathon participants who managed to raise most funds for charity for this event. As a member of the Team in Training for a fundraising program for The Leukemia & Lymphoma Society (LLS), Hillary Gelfman raised more than $88,000. The modalities for the fund raiser involved a race for Team Vickie, that she organized, in the honour and memory of her sister.
In 2013, Hillary Gelfman was a marketing director for the PepsiCo's Global Nutrition Group. Vickie, her sister, was diagnosed with AML (acute myeloid leukemia) just eleven months after she ran her first marathon. In August 2014, Vickie lost her battle with leukemia. That is when Hillary Gelfman got the idea and raised monies to fund more research for cancers, just like the one her sister had.
More than 10,000 participants ran in the marathon that Hillary Gelfman organised. The event raised a record $17.6 million, benefitting 195 charities.
"We're honoured to recognize Hillary with this renowned award for her dedication to LLS' Team in Training, an organization that exemplifies the philanthropic values of the Bank of America Chicago Marathon," said Bank of America's Illinois president, Tim Maloney. "Hillary's commitment to her sister's memory is admirable, and her fundraising efforts demonstrate her selfless dedication to helping improve treatment for those whose lives are in need, furthering the marathon's charitable impact in the Chicago community and beyond."
"I am proud to present this award to Hillary on behalf of the Daley Family. Her passion for LLS' Team in Training is truly an inspiration and an excellent example of the devotion and perseverance that runners share. It is amazing how the Bank of America Chicago Marathon brings out the best in so many people like Hillary," said Mayor Daley.
In 1996, the LLS' Team in Training charity team began participating in the Bank of America Chicago Marathon. Since then, the team has raised nearly $30.4 million through marathon fundraising efforts.
"On behalf of the LLS' Team in Training, I am incredibly grateful to accept the esteemed Daley Award," said Hially Gelfman. "My youngest sister Vickie was full of life and taken much too soon by this terrible disease. LLS is making amazing strides to fund research, therapies and, one day, cures for those with blood cancers. I am thrilled I was able to raise these funds for a cause so close to my family and am incredibly thankful to everyone on 'Team Vickie' who helped me surpass my fundraising goal."
Amongst other recipients of the prestigious Daley Award, Hillary Gelfman joins Jim Jenness, a co-trustee of the W.K. Kellogg Foundation Trust (2013, Mercy Home for Boys and Girls); Dr. José Oberholzer, chief of the Division of Transplantation at the University of Illinois Hospital (2011, The Chicago Diabetes Project); Carl Allegretti, CEO of Deloitte Tax (2010, Children's Memorial Hospital); and John Nichols, president of the Disability Resource Group (2012, Spinal Cord Injury Association of Illinois).
These award-winning fundraisers, along with the combined efforts of the thousands who have committed to running for charity each year, have made the 'Bank of America Chicago Marathon' a critical annual fundraiser for hundreds of NPOs and one of the largest fundraising events in the history of Illinois.
References:
http://www.businesswire.com/news/home/20150602005313/en#.VW6vndKqqko