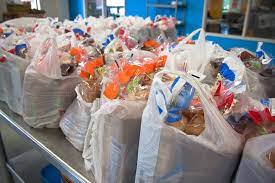 Are you aware that July is the start of a global campaign to eliminate plastic from your daily life?

I work as an Energy and Sustainability Manager for Cisco's Workplace Resources (WPR) group, and I care deeply about reducing waste, especially single-use plastics. Why is plastic a problem?

Half of the plastic that is produced is meant for one-time use — it is used once and then thrown away. Moreover, it is made from petroleum, a kind of fossil fuel that contributes to climate change.

According to the Pew Charitable Trusts, "Every year, an estimated 11 million metric tons of plastic waste end up in the ocean. If we do not take immediate and sustained action, that amount will almost triple by 2040, to 29 million metric tons per year. That is equivalent to dumping 110 pounds (50 kilograms) of plastic on every meter of coastline around the world."

Plastic Free July® is a key initiative of the Plastic Free Foundation that envisions a world free of plastic waste. The Plastic Free Foundation 2022 Impact Report shows that last year's Plastic Free July had a record 140 million participants making conscious changes that reduced plastic waste by 2.6 million tonnes — that's the same as around 13 thousand blue whales. Do you want to join the movement in breaking up with single-use plastic?

Here are some suggestions inspired from the Plastic Free Foundation on how you can get started, and some advice from Cisco Green Team Network members, which is an Inclusive Community for Cisco employees who are interested in sustainability:

When eating out: Say no to plastic straws and plastic cutlery, bring reusable alternatives instead. When you're eating out, it's easy to just accept a straw or fork made from plastic, but it is only used for a few minutes and then discarded. According to the Natural Resource Defense Council (NRDC), most plastics end up in landfills or in the environment.
"Single-use plastics in particular—especially small items like straws, bags, and cutlery are traditionally hard to recycle because they fall into the crevices of recycling machinery and therefore are often not accepted by recycling centers. Left alone, plastics don't really break
down
; they just break
up.
Over time, sun and heat slowly turn plastics into smaller and smaller pieces until they eventually become what are known as
microplastics
."
"I'm inspired to reduce plastic waste not only because it is the right thing to do but it is now part of my everyday life," says Green Team member Thea Zaralidou from Greece. "I'm motivated by my two young sons. We have taught them the importance of recycling, reusing and how this can affect the community around them. In primary school, they have learned about the dangers of plastics to the wildlife and the beaches here in Greece."
Although plastic straws and plastic cutlery are a small part of a bigger problem, it's a good place to start eliminating single-use plastic from your life. Request that your drink be served without a single-use plastic straw or use a paper straw if one is available. For those with accessibility issues or for those who would still like a straw, try reusable options made from materials like stainless steel or glass. There are even foldable versions that you can easily bring with you next time you go out. When it comes to plastic cutlery, there are portable options for those as well, usually made from stainless steel or bamboo. If you're ordering takeout, be sure to let the restaurant know you don't want them to include single use plastic cutlery with your order.
While you're shopping: Use your own reusable shopping bags and avoid plastic packaging when buying items at the grocery store.
Like other single-use plastic products, plastic bags and packaging do not biodegrade and are unlikely to be recycled.
According to the
New York Times
, "The bigger problem arises when people don't dispose of their bags properly, and the plastic ends up fluttering around in the wild, clogging up waterways and threatening wildlife."
Reusable shopping bags are handy and colorful; just keep them in a place you will remember, like near the door or in your car. Choose bags made from natural or recycled materials such as ethically produced cotton or recycled plastic bottles. Want to make a bigger impact with a smaller footprint? You can make your own reusable shopping bags from an old piece of clothing.

According to a 2020 review, most of the plastic waste that is polluting the environment comes from food packaging plastics. When you're shopping for groceries, try to avoid pre-packaged, single-use plastic. Choose to buy fruits and veggies that are loose or in bulk instead, and extra points if you use lightweight, reusable produce bags. Most bags can be washed in your washing machine when they need a clean. You can also do this with deli and baked goods by bringing your own reusable container.

Green Team member Cristobal Sayrols Estrada, from Mexico City, practices sustainable shopping. "I have adopted daily habits to minimize my use of single-use plastics. I prefer to buy products from local grocery stores or markets and consciously avoid plastic film and containers."

Cristobal went on to add, "When I go grocery shopping, I bring my own reusable bags and containers to reduce waste. By implementing these practices, I hope to contribute to the reduction of plastic waste and protect our environment."
​When you're on the go: Bring a reusable coffee mug and use a reusable water bottle. According to a 2023 report from the UN, "…the world currently produces around 600 billion plastic bottles amounting to approximately 25 million tonnes of plastic waste, which is not recycled but is disposed of in landfills or as unregulated waste."
With hybrid work, it can be tempting to grab your favorite drink on your way to the office, served in a single use plastic container. While many people are using reusable water bottles these days, many people forget to bring a reusable container when they go to a coffee shop.

Paper coffee cups, despite the name, have a plastic lining that prevents the liquid from dissolving the cup, and are often topped with a plastic lid. Many shops are happy to fill-up your personal container, some will even give you a discount for bringing it in. Or if you plan to stay and work for a while, ask for a ceramic cup or mug. Green team members Sharon Hatego from Kenya and Diana Mehnen from Germany bring reusables on the go.

Sharon said, "I always carry my water bottle so I don't have to buy bottled water. Even my kids know this — it's right up there with bathroom check before we leave the house." And Diana carries her own travel cup for plane travel and refill options.
​While at home: Avoid using home goods products packaged in single-use plastic. According to the Ellen MacArthur Foundation, your average bottle of household cleaner is 90% water. Stop paying for water and explore concentrated or refill cleaners to reduce household plastic waste.
Many cleaning products, from window cleaners to clothing detergent, come in single-use plastic containers. Bulk food stores can be a great place to look for alternatives. Many stores allow you to bring in a personal container (or get one at the store) and refill your soap, detergent, and shampoo (to name just a few options).

Once you have tried this, explore other packaging-free items available in-store. Another option to explore is concentrated cleaning products. Try powdered laundry detergent or soap concentrates. Many of these products work just like their traditional counterparts when they are mixed with water. While you may not completely eliminate plastic with these options, you will greatly reduce the emissions, and therefore fossil fuels, required for production and transportation of your household cleaners.