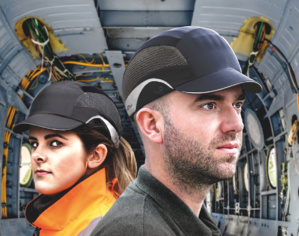 Dailycsr.com – 21 April 2016 – JSP present the "HardCap AeroLite" along with the "PPE specialist's range of bump caps". The latter has been designed for workers, wherein they are exposed to impact risk which might occur "between the head and stationary objects".
The new bump cap range comes with "full high-density polyethylene shell" so as to protect the impact from hitting the top as well as the front of the head, while it also takes care of the "scrapes to the side of the head".
Nevertheless, in designing for maximum protection the bump caps do not compromise the wearer comfort level, therefore the HardCap AeroLite, as the name suggests, is "extremely lightweight" and keeps the wearer comfortable as well.
According to HSE:
"...at under 135g, the cap weighs about the same as a typical standard-sized smartphone – and it's just as stylish.
Comfort is further enhanced by a lightweight expanded polypropylene liner offering class leading impact performance".
The finishing touches of the bump caps include "treated Sweatband and foam-cushion comfort pads" for guarding the skin from odours, irritation and to keep it fresh.
References:
http://www.healthandsafetyatwork.com/