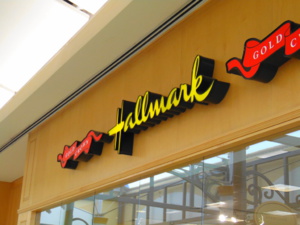 Source: www.flickr.com; (CC BY-SA 2.0)
Dailycsr.com – 27 May 2019 – Hallmark revealed that it has come out with its third annual Social Responsibility report called "Caring in Action" which features the company's work for the year of 2018, wherein it strived to create a "diverse portfolio of businesses" that addresses the "community, diversity and inclusion and sustainability" issues.

In the words of the chief executive of the company, Don Hall:
"We are honored to be able to enrich lives where even one pebble of progress can have a ripple effect, spreading to impact the greater good. The world needs care now more than ever, so our work must continue."

In this edition, the Caring in Action report recounts stories of Hallmark's various businesses which include the "Hallmark Greetings, Hallmark Retail, Hallmark Home & Gifts, Crayola, Crown Media Family Networks, and Crown Center". Moreover, the report also provides an overview of the company's "workplace culture, profiles of diverse leaders from Corporate Strategy, Hallmark Greetings, Crown Center and Crown Media" which in turn offers an insight into its leadership capacity.

In fact, report further adds testimonials from the communities and organisations alike that Hallmark has committed to serve. Here are some of the highlights from the report which shows the company's progress made in the fields of "community involvement, sustainability, and diversity and inclusion", as mentioned in the Press Release of Hallmark Corporation:
Donated 262,000 meals through Harvesters, accumulated nearly 50,000 volunteer hours, and helped to aid more than 1,200 nonprofits
Surpassed its 2020 goals of sourcing 99 percent of its paper from known, sustainable sources; met its goal of a 50% reduction in greenhouse gas emissions; and within striking distance of its recycling goal with 53% of its packaging and merchandising featuring recycled fiber
Earned recognition as one of the "Best Places to Work" by the Human Rights Campaign for the fourth straight year, in addition to being named one of America's Best Employers, America's Best Employers for Diversity, and America's Best Employers for Women (No. 3 overall) by Forbes and Statista.