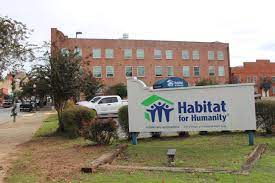 Discover the inspiring story of Mattie, a Habitat for Humanity homeowner in Rochester, New York, who was struggling to make ends meet due to health issues and the impact of COVID-19. Thanks to Habitat's Cost of Home campaign, Mattie learned about the Homeowner Assistance Fund, which provides support to homeowners at risk of default and foreclosure.

Through this program, Mattie was able to receive assistance and maintain the security and stability of her beloved home and community.

In the realm of affordable housing, both Ohio's Preble Habitat and Habitat Michigan have shown exceptional leadership in advocating for the supply and preservation of homes. Preble Habitat, for instance, lobbied for $50,000 of local CARES funding to be earmarked for a housing program aimed at assisting homeowners with mortgage and utility payments.

Their executive director also chaired the working committee responsible for allocating these funds, which will ultimately benefit around 50 individuals. Meanwhile, Habitat Michigan spearheaded a sign-on letter that effectively influenced Governor Whitmer to allot $100 million from the state's American Rescue Plan Act (ARPA) budget for housing assistance. With this remarkable move, approximately 6,000 residents in Michigan will receive much-needed support for their housing needs.

Exciting Developments in Affordable Housing Efforts
Habitat for Humanity's Richmond affiliate has teamed up with the local economic development committee and the Wayne County Foundation to push for more affordable housing options in the city's revitalization plans. By partnering with neighborhood associations through the Neighborhood Involvement and Community Engagement (NICE) Program, they secured funds to construct 15 homes, promoting inclusivity and accessibility for all.

Meanwhile, in Cincinnati, Habitat for Humanity of Greater Cincinnati is making a significant commitment to the Lower Price Hill neighborhood. They have partnered with parents of students at the community's central school to provide affordable homeownership opportunities. However, the rehab process can be costly and time-consuming, and their initial funding request for a 46-unit apartment rehab project was denied by the City of Cincinnati. Undeterred, Habitat Greater Cincinnati joined forces with three other nonprofits to advocate for the funding. They even testified at a Cincinnati Council committee hearing to encourage the city to invest in the project. Thanks to their tireless efforts, the City Administration ultimately committed $1 million to the project, which is set to improve housing conditions for an estimated 96 individuals. Habitat for Humanity's dedication to promoting affordable housing solutions continues to benefit communities across the country.

Prepare to be inspired by the efforts of Central Berkshire Habitat for Humanity in Pittsfield, Massachusetts! Their tireless advocacy has resulted in two major wins for their community. First, they led the charge to establish the At-Home in Pittsfield program, a groundbreaking initiative that provides exterior renovation loans to eligible homeowners. Central Berkshire Habitat played a pivotal role in championing this program, and will continue to be a key partner in its implementation. This policy win will result in a whopping $500,000 for the city to use in supporting homeowners in need.

But that's not all! Central Berkshire Habitat went above and beyond by petitioning Governor Baker for COVID relief funding for non-profits and small businesses. And their hard work paid off - the governor approved a staggering $78,500,000 for organizations that have been hit hard by the pandemic. Thanks to the unwavering dedication of Central Berkshire Habitat for Humanity, the community of Pittsfield can breathe a little easier knowing that help is on the way.

Reimagining Access to Credit and Affordable Homes
In the face of predatory lending practices and perpetual debt traps, Habitat for Humanity affiliates in Michigan banded together to fight against House Bill 5097, a proposed legislation that would have allowed payday lenders to give out small loans with exorbitant fees and no term limits. Habitat for Humanity of Michigan and affiliates across the state collaborated with several other housing organizations to meet with 35 legislators, urging them to vote against the bill. Thanks to their advocacy efforts, HB 5097 ultimately died before getting a vote in the Michigan Senate committee.

Meanwhile, Habitat affiliates in Ohio, Michigan, and beyond have been tirelessly advocating for more affordable housing options and critical home repairs. Habitat Michigan's successful push for budget items in Senate Bill 565 relating to missing middle housing and development of a Housing and Community Development Fund was a major victory for the state's network of affiliates and partner organizations like Community Economic Development Association of Michigan (CEDAM), Michigan Community Capital, and the Michigan State Land Bank. Habitat Ohio's successful lobbying efforts resulted in an increase of Ohio Housing Trust Fund grant allocation from $90,000 to $500,000 over a two-year period, enabling them to serve 50 families statewide.

But the fight for affordable housing doesn't stop there. In partnership with the Marion Housing Coalition, Buckeye Ridge Habitat for Humanity advocated for The Marion County Land Bank to adopt 10 recommendations focused on neighborhood revitalization, rehabilitation standards, threshold requirements for purchasing Land Bank properties, and developing capacity for affordable housing. These efforts demonstrate Habitat's unwavering commitment to empowering communities and providing access to safe, decent, and affordable homes for all.

In the great state of Indiana, Habitat for Humanity affiliates united in opposition against Indian SB 352, a potentially harmful policy that could have targeted low-income families with high-cost subprime lending. Drawing on their collective strength, they reached out to legislators and leveraged the influence of their board to advocate for the well-being of these vulnerable households. Thanks to their tireless coalition efforts, the bill was thwarted and did not come to a vote, thus safeguarding low-income families in the state from the perils of predatory lending.

As we continue to broaden our reach and amplify our impact through policy solutions at the local, state, and federal levels across the United States, we humbly acknowledge the invaluable support of Whirlpool Corporation. Together, we aspire to create a world where every individual has access to the secure and dignified shelter they deserve, and we are thrilled to work in tandem towards achieving this noble goal.