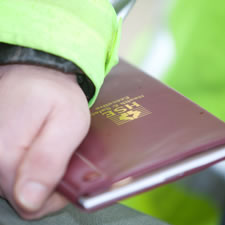 Dailycsr.com – 23 September 2015 – Three years from today, the bills issued from the HSE were forty percent lower than its present rates. At present, the "Intervention scheme" by HSE issues its invoice Fee in average of "£700". Going by the latest figures of the HSE invoices run in the month of 2015, there were "2922 invoices" issued which amounted to "a total of £2.01 million". Therefore, the average rate came to "£715 each". These notices covered "contravention issued" in the months of April and May 2015.
On the other hand, the invoices sent out in the month of June, covered the issues of "February and March", whereby an amount of "£2.24 million" reflected in a conglomeration of "3125 invoices". In fact, the total figure that appears in the invoices that was run in June, show the highest scheme ever charged "since the scheme was introduced".
In an interval of two months, the HSE issues invoices to companies that have been given "a notice of contravention" by inspection teams in consideration of breaching material of the law. However, even if the invoices are issued irrespective of "whether any investigation has been completed", the cost would be less than "a notice of contravention".
As per the report of Health and Safety:
"The extractive industry faces the highest cost per invoice; those issued in the latest run averaged £972. This is followed by the service industry (£914) and water and waste management (£803).
"The average invoice has, with some fluctuation, risen since the scheme was launched in October 2012. In January 2013 the average was £513; in March 2014 it stood at £618".
The highest HSE bills were issued to "manufacturing and construction sectors", while the former market received a total invoice amount of more than "£750,000" in the month of August and the latter settled for "£591,500". Furthermore, "£565,600" was charged to the service industry. HSE assessment for the regulations Fee is the legal "cost recovery regime", which estimated that" £43.6 million" could be generated annually. However, as per the latest figures, "regulator is a long way off", while the regulatory head of "DWF" law firm, Steffan Groch states:
"These figures clearly show that the HSE FFI regime is being most effective in three sectors: construction, manufacturing and services.
"What is not clear is why these three sectors are being found in material breach more than other sectors. Perhaps it is simply down to their risk profile or perhaps it is a reality that those sectors find it difficult to ensure that health and safety legislation is complied with in full and that HSE inspectors can always find something that is a material breach. Given the importance of those sectors in fuelling economic growth, some might say that FFI interventions [should] be retargeted.
Nevertheless, the increment of forty percent "could be down to more effective time recording by inspectors and also with more time being spent per notice of contravention", says Groch.
References:
http://www.healthandsafetyatwork.com