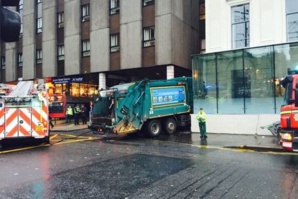 Dailycsr.com – 26 August 2015 – Exactly "three days" before the Christmas Eve of 2014, the lorry driver Harry Clarke, fell unconscious behind the steering wheel. Consequently, the vehicle was out of control and took the life of six people besides injuring fifteen others. A representative of the victims' relatives who died in this accident, Mark Stewart QC informed the FAI that the HSE made a "hasty and ill" decision so as not to investigate the crash, whereby calling the same as a "road traffic accident".
However, an HSE inspector, Barry Baker who was present at the hearing of Glasgow Sherriff Court, dismissed the suggestion by providing evidence against the charges on the second hearing day, whereby stating that the accident was nothing other than "a road traffic accident" which has been dealt with due investigations and regulations. It appears that the driver on duty has a medical history of "dizzy spells" which the DVLA authorities were ignorant about as Clark didn't mention anything about it in his "job application forms".
The HealthandSafety writes that:
"The court heard that a meeting was held the day after the crash with representatives from the police, Crown Office, HSE and others, where it was agreed the incident was a road traffic matter and would be investigated by police".
Moreover, FACK also issued a statement wherein it termed the HSE decision to be illogical given the policies of HSE enforcement and the Work-Related Deaths Protocol. In fact, this incident also brought forward information about other such cases of "bin lorries killing members of the public" who were investigated, trialed and prosecuted.
Furthermore the statement noted that in the year of 1997, a similar Manchester based case was "rebuked" by HSE terming the same as a failure on the part of the investigators as the incident occurred when a public driving on the "public highway" was fatally hit by "a forklift truck" which suddenly emerged out of a timber yard. In fact, a "Judicial Review" that came out on 2000 dismissed the decision of HSE which stopped further investigation and ordered the investigating authorities to look into the matter. A spokesman informed:
"FACK finds it very strange that the HSE in Scotland appears to be unaware of this landmark Judicial Review in 2000 over a very similar case. We believe the decision of the HSE not to investigate the Glasgow bin lorry incident should be reviewed under the Work-Related Deaths Protocol and all other relevant enforcement policies and procedures, including the Corporate Manslaughter and Corporate Homicide Act".
It appears that Clarke took refuge under his "legal right" and refrained himself from giving further details on his blackout problems, although he narrated his side of story the before the crash occurred.
Source(s):
http://www.healthandsafetyatwork.com/hsw/hse/fack-fai-glasgow-bin-lorry