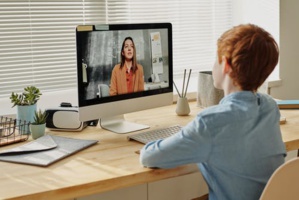 Dailycsr.com – 29 September 2020 – Due to the COVID-19 outbreak, students have been forced to attend school online. This global shift could naturally give rise to questions in many parents' minds, as they might worry either about accessing their "child's learning materials" or about the distribution of laptops and tablets. Moreover, the possibility of a "new grading policy" might also cause tension for them.
However, one question that somehow hasn't caught the attention of many is "how remote learning affects privacy" while what the parents, teachers as well as the students can do create a safe online learning environment. In the words of the University of Massachusetts Amherst's Associate Professor of Learning Technology, Torrey Trust:
"I think one of the biggest problems we have is trying to replicate or mirror traditional classroom practices in the virtual realm".
Looking for an answer to the same, seven experts specialising on "online education, privacy and safety", were contacted, and one of the things that they recommend was to talk to the children and to explain to them the concept of privacy. In the words of the "educational consultant and clinical social worker" from Maryland's Montgomery County:
"It's important for parents to have conversations with their children about what feels private to them and what doesn't".
However, she also reminded that it will not be an one time conversation. Parents have an important role in ensuring their children's privacy and can help them to speak freely about their concerns. While HP Inc informed:
"Amelia Vance, the director of youth and education privacy at the Future of Privacy Forum, a nonprofit in Washington, D.C., that provides resources to help people better understand how new technologies affect privacy, said students should be instructed to tell their teachers or parents if they feel uncomfortable or unsafe in the online learning environment".
For more information, kindly click on the link below:
https://garage.hp.com/us/en/modern-life/online-school-privacy-remote-learning.html
References:
3blmedia.com