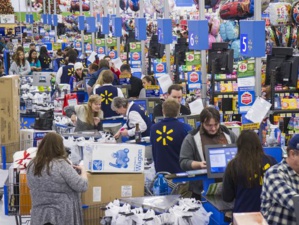 Dailycsr.com – 26 October 2015 – The U.S. military force holds the manpower of "250,000 members" whereby many of them are "transitioning back to" civil life cycle every year. Likewise, some veterans are going back to schools, while others are visiting workplaces. This category can be visible in almost all the "neighborhoods across the country".

The veterans are turning into "neighbors, co-workers, coaches, teachers, leaders" while taking part in the society as "active citizens". In fact, the transition from the military life to back at home does not end at the doorsteps, for BusinessWire claims that is only just the beginning.

Walmart in collaboration with various Veteran organisations have launched the "Greenlight A Vet" campaign. The organisations involved in this movement are:
"...the Institute for Veterans and Military Families, Team Red, White and Blue, Team Rubicon, Hire Heroes USA and Blue Star Families".

The said campaign is targeted to develop "visible and actionable" support for the veterans of the Unites States of America along with their families on a national level. Even though, they meet people in their work place and most of the citizens interact with them on a daily basis yet little do we show the sign of recognition for their sacrifices and contributions made for the country's sake. The contributions have been "camouflaged" behind the veterans' civil attires.

The green light at the traffic junction signifies a clear signal for moving ahead, consequently, the green light initiative is a tribute for the veterans' ability to take quick actions irrespective of the challenge presented before them. In fact, they possess "great leadership skills" that allow them to manoeuvre through any situation while they represent "the best of America" as well.
The vice chancellor of Syracuse University cum the executive director of the IVMF, Dr. Mike Haynie stated:
"The Institute for Veterans and Military Families (IVMF) at Syracuse University is proud to be a part of Walmart's campaign to Greenlight A Vet in support of those who have served in the military and their families. Participating in a national movement, designed to recognize those who have worn our nation's uniform as valued, contributing members of our communities, is our way of encouraging all Americans to meaningfully engage with veterans and their families and by so doing, appreciate them as respected civic assets."

While, the "retired Brigadier General", Gary Profit, who is the senior director for military programmes at Walmart commented:
"By uniting behind a visible symbol, we can ignite a national conversation in our communities about opportunity, success and service for veterans as they take off the uniform".


In order to help in this endeavour of "Greenlight A Vet", one contribute through the points mentioned below:
Hire one today. Or help a veteran find a job.
Volunteer and serve with veterans groups in your local community.
Start a mentor/mentee relationship with a returning veteran.
Raise awareness on social media.
Or simply signal support by changing your porch light to green.
The Walmart Foundation's president, Kathleen McLaughlin talks about their contribution in "Greenlight A Vet":
"Through continued, collaborative work with our nonprofit partners, we greenlight innovative public/private community-based initiatives that address the navigation challenges many of our veterans face when returning to the civilian workforce and their communities. There is no better tribute to our men and women who serve than recognizing the value of their contributions and fully engaging them in our communities and workforce when they return home."
References:
www.businesswire.com