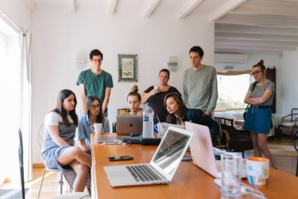 Dailycsr.com – 03 June 2019 – The GreenBiz Group has revealed the "2019 'GreenBiz 30 Under 30"', which marks the fourth in its series of annual list that features "emerging leaders across sectors and countries" striving to shape the future of sustainable business.
The readers of GreenBiz from all over the world nominate the honourees while the editorial team at GreenBiz pick out from "hundreds of submissions". This year, the list includes directors, C.E.Os, managers and founders. These leaders come from various industries and sectors but they are united in their drive towards bringing in the needed change in the world.
In the words of the Editorial Director of GreenBiz Group, Heather Clancy:
"The 2019 class of 30 Under 30 represents a rich diversity of genders, ethnic backgrounds, industries, and professional roles across the private and public sector. Their perspectives are creative and their approaches offer lessons for sustainability professionals at any stage of their career. It's inspiring to consider what they have already achieved during the first decade of their careers, and we're eager to see what they accomplish next."
Moreover, the "World Business Council for Sustainable Development and BSR" were involved in choosing this year's candidates. A total of thirty individuals, who come from ten different countries, including Oakland, India, Philippines, Nashik, Taguig and California to name a few, will be given this honour. In fact, among the honourees, seven of them work some of the "largest companies" in the world such as "Ernst & Young, Goodyear, Microsoft, Rabobank, Sainsbury's, TPG Capital and Unilever".
Other members belong to various fields like "government, startups, academia and advocacy groups". While, BSR's chief executive officer, Aron Cramer:
"These young women and men are helping to redefine sustainability, befitting a generation which is demanding that the companies they work for have a larger purpose, and the products they buy be more sustainable. We can feel confident that, as they ascend into positions of increasing influence, the future of sustainable business is bright."
Furthermore, the president as well as the chief executive of the "World Business Council for Sustainable Development", Peter Bakker noted:
"We need their courage and leadership to look at sustainability and its challenges in a different way. Business as usual is no longer an option, and to achieve our vision of a world where more than 9 billion people are all living well and within the boundaries of our planet, we need to transform our current economic systems so that more sustainable businesses are the most successful. And the next-gen leadership will add impetus and play a critical role in ensuring this transition happens."
To view the entire list of "GreenBiz 30 under 30", kindly visit the link given below:
https://www.greenbiz.com/30under30
References:
3blmedia.com