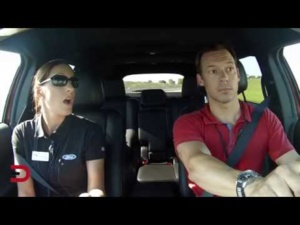 Fund Motor Company Fund is going places: for the very first time it is expanding its innovative Driving Dream educational tour to Panama – its first international market. There it will help more than 300 young boys and girls in their schooling program.
Ford Fund and Ford are the philanthropic arm of Ford Motor Company. Through its Ford Driving Dreams Tour in Panama, the company will invest more than $50,000 into motivational activities, scholarships and school grants, designed to prevent students from dropping out from schools. So to be successful in its endeavors, Ford has tied up with Ministry of Education of Panama and with United Way Panama.
"For more than 100 years Ford Motor Company has worked to make a better world for the communities where we do business. The vitality and growth of every nation depends in great part on educating our young people, and we are excited to bring our innovative program for helping kids stay in school to Panama," said Jim Vella, president, Ford Motor Company Fund and Community Services.
The age group of the children that the Ford Driving Dreams Tour in Panama will focus on 13-15. As per the University of Panama's Research Center, most children between 13-15 years of age are at risk of dropping out school due to a combination of social factors including lacks of school supplies, transportation, and nutrition amongst others.
The Ford Driving Dreams Tour selected 300 students from 19 public schools from some of the most vulnerable communities such Colon, San Miguelito and its nearby provinces. The selection was done along with Panama's Ministry of Education.
Many of these students have good academic standings but due to socio-economic factors are vulnerable to be school drop outs. Each of the 19 students will receive a $2,000 grant to help them support themselves and also provide them with an environment conducive to learning.
"We are very pleased that Ford selected Panama as the first international market to launch the Ford Driving Dreams Tour. This will be a transformative experience for our students and we commend Ford for their global corporate citizenship and the impact they will make in Panama with this initiative," said Carlos Staff, vice minister of education of Panama.
As part of the program, students will also experience a whole day of high-energy goal-setting activities led by subject-matter professionals. They will also get to hear highly motivational life-changing testimonies from speakers such as Chemito Moreno, a former Boxing World Champion, César Barría, an athlete who has distinguished himself of being the first ever Latin-American and Central-American - with a disability - to swim across the Strait of Gibraltar.
Student were motivated and inspired to define their dreams and acquire skills so that they could live them.
"Following our 'Go Further' philosophy, Ford Motor Company is pleased to support Ford Driving Dreams, a program that motivates and inspires students so they can become the leaders of future generations. By supporting this program, we reiterate our commitment to the Panamanian community," said Pablo Haase, managing director Ford Motor Company, Caribbean and Central America.
Additionally, the Ford Driving Dreams Tour will also provide $10,500 in scholarships through an essay contest titled "What Drives Your Dreams?" This is to highlight and reinforce the importance of education. It will also help students and their families to defray the costs of education, transportation and other basic necessities. The scholarships will be administered by United Way Panama.
"United Way has a longstanding legacy of partnering with Ford to fulfill important community needs. We are excited to expand our partnership and build on this legacy to deliver much needed educational resources to our young people in Panama," said Mercedes Eleta de Brenes, chair of United Way Panama.
References:
http://www.businesswire.com/news/home/20150723005910/en#.VbISQKSqqko