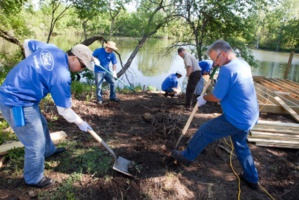 As part of the Ford Motor Company Accelerated Action Day, hundreds of members from the Ford Volunteers Corps participated in community environmental projects, which are aimed at building stronger communities on World Environment Day.
"Ford and its employees are always looking forward, creating and innovating to improve the vehicles we build and the communities where we live and work. Sustainability is a critical ingredient because we're not just looking for short-term fixes; we're in this for the long haul with sustainable solutions to create a better world," said Jim Vella, president, Ford Motor Company Fund and Community Services.
Around 500 employees from Ford participate in more than 36 core community service projects which were created by Ford's partners. Included amongst these service projects were renovating outdoor facilities and building urban vegetable gardens.
Many of those agencies who are participating will be sharing $47,000 in grant from Ford so that they can buy the necessary tools, materials, plants, etc. to complete the day's work.
The following are the non-profit partners in Southeast Michigan who are the recipients of Ford's grant up to $5,000:
Arbor Hospice, Ann Arbor - Remove damaged trees, plant grass and replace garden mulch
Boy Scouts, Metamora - Build swimsuit changing station for family camp
Community Living Centers, Southfield - Lay flooring and replace storm doors at group home
Fish & Loaves, Taylor - Assemble raised garden beds to support community food bank
Forgotten Harvest, Oak Park – Re-label food for distribution to the community
Friends of the Rouge, Dearborn - Install native demonstration garden and pathway
Gleaners Community Food Bank, Farmington Hills - Construct demonstration and produce gardens
Grandmont Rosedale Development Corporation, Detroit - Plant garden next to farmers' market
Habitat for Humanity, Detroit - Secure merchandise shelving and create displays at ReStore
Habitat for Humanity, Monroe - Landscape Habitat homes with sustainable plantings
HAVEN, Pontiac - Clean children's playground and work on compost project
International Wildlife Refuge Alliance, Grosse Ile - Install split rail fence and spotting scope
Liberty Hill Housing Corporation, Romulus - Clean yards and landscape residential group homes
Macomb County Habitat, Clinton Township - Make improvements to community garden
Northville Community Foundation, Northville - Build elevated gardens, trash & recycling receptacles
Salvation Army - Echo Grove Camp, Leonard - Relocate native wildflower garden, build tent decks
Starfish Family Services, Inkster - Prepare site and install raised garden beds
St. Vincent de Paul, Detroit, other locations - Sort and recycle donated clothing, household goods
So as to promote a recycling culture, Ford employees teamed up with those in Ford Green IT and collected unused printers, computers and other electronic items for recycling. In the previous year more than 75,000 pounds of e-waste was collected, recycled and saved from landfills.
"From riverfronts to neighborhood streets, the scope of these projects shows how far Ford volunteers go to improve their local environment. The annual e-waste recycling event is another example of our continuing efforts to Go Further in our communities," said Janet Lawson, director, Ford Volunteer Corps.
The Ford Volunteer Corps is active in local communities throughout the year. In the coming months, thousands of Ford employees will come together on six continents to celebrate the 10
th
anniversary of the Ford Volunteer Corps and expand Ford Global Week of Caring to Ford Global Caring Month and in the process, open up new opportunities for more Ford employees to participate in creating a better world.
References:
http://www.businesswire.com/news/home/20150605005122/en#.VXKMqtKqqko