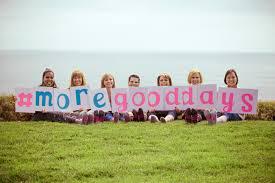 In order to help sustain those who have been afflicted by breast cancer, Ford Motor Company, launched its 'The Good Day Project' through its Warriors in Pink campaign, which has been very proactive about the health of women's breasts. It campaigns have been not only very spirited but have been inspirational as well. So as to take this project a step further, Ford Motor Company started the Good Day Project which encourages people to step up and help those who are battling this disease.
"Most breast cancer patients characterize their days by 'good days' and 'bad days. While many people want to help, most are unsure of the best way to show their support. We want to change this," said Tracy Magee, Brand manager, Ford Warriors.
She went on to add, "Warriors in Pink is about driving awareness, and about motivating people to help in the battle against breast cancer. With The Good Day Project, we hope to empower people to take real action and help provide more good days to those living with the disease."
In order to provide material benefit to those dealing with breast cancer and in order to alleviate their day-to-day pains, Ford Motor Company has partnered with Lyft and Meal Train so as to provide them with resources and support services.
If you recall, Meal Train is an online platform that brings friends and family together for a meal. Meal Train's partnership with Ford Motor will allow these users free access to its premium services that not only helps you organize meal deliveries but also helps you organize for other errands and services such as childcare, for example.
"We are thrilled to be joining forces with Ford Warriors in Pink to simplify the giving process. Our goal is to give users practical solutions that help provide the services they need on the days that are most helpful. Through this partnership, we hope to inspire more people to join the fight and grant small acts of kindness that lessen the burden for those living with the disease," said Michael Laramee, cofounder, Meal Train.
Along with Meal Train's support services, Ford Motor's partnership with Lyft will also offer members ride to and fro from their appointments. This is applicable to select patients undergoing treatment. This ride-sharing service will commence in select cities from June onwards. Gradually, its services will roll out across 17 cities for select treatment centers.
"Reliable transportation to and from treatment is a common challenge for patients. We are honored to be partnering with Ford Warriors in Pink to bring a dependable option to the many women seeking treatment this year," said Kira Wampler, chief marketing officer, Lyft.
She went on to add, "Together with Ford and Meal Train, we'll help bring awareness to the small things people can do to support women fighting this disease. In the coming days, we'll share details on how to donate a free Lyft ride to a patient in need – simply by showing your support."
In addition to partnering with these two service providers, Meal Train and Lyft, Ford's Warrior in Pink has generated
new tools, ideas and tips
which people can use to carry out simple acts that contribute to having a good, if not great, day.
Amongst other, these new tools, ideas and tips include:
A post card mailing service through which visitors can send customized messages to their loved ones. This service is totally free of cost.
A listing of books that have positivity in them that contain words of encouragement from those who previously dealt with breast cancer.
A Spotify playlist with songs of encouragement and empowerment.
Advice from members of 'Warriors in Pink - Models of Courage' on how to remain positive, build resilience and get through the hard days of treatment, along with inspirations and tips on ways to celebrate the good days.
Health and financial information from the four charity partners of Ford Warriors in Pink – Dr. Susan Love Research Foundation, Young Survival Coalition, The Pink Fund, and Susan G. Komen.
An opportunity to win various "good day" experiences – from flowers to relaxing spa treatments and even a grand prize of an all-new Ford Mustang
Supporting Ford Motor's 'The Good Day Project' is songwriter and singer Andy Grammer, whose mother left her body six years ago after being afflicted by breast cancer. It was only recently that Grammer joined the Warriors in Pink program after he visited 'The Margie Petersen Breast Center' in LA. His visit was a pleasant surprise to more than 50 cancer patients.
"We learned of my mother's breast cancer very late, and because of that I feel it's important to be a part of the awareness movement. I want people to know that it does not have to be all bad. You are reminded that it only takes a moment to show someone how much you love them, and these small moments can help influence their outlook," said Grammer.
Ford Motor Company has been advancing the cause of fighting breast cancer for more than 2 decades. Its work has inspired not only the next generation of warrior in the fight against breast cancer but continues to fuel the spirit of those brave souls who continue to fight and live with this disease. To date, Ford Motor Company has contributed more than $128 million to the fight against breast cancer.
References:
http://www.businesswire.com/news/home/20150519005631/en#.VWRvfNKqqko