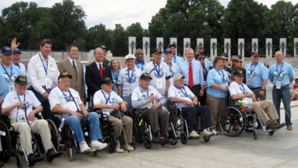 Ford Motor Company is continuing in its path of not just being a technological powerhouse but also a philanthropic institution dedicated to bring positive social changes into the world. The philanthropic branch of Ford Motors, Ford Fund is going to fund a visit to World War II memorial in Washington D.C, for around 70 war veterans from the Louisville area.
The war veterans mostly in their eighties or nineties would be transported via an Honor flight to Washington, this Saturday, where members of the Congress and Ford employees would be present to greet them. Ford Fund is covering the cost of the trip for the veterans from Louisville and Kentucky, to allow them to experience the war memorials dedicated to their inspiring efforts during the Second World War. The trip has been organized by Honor Flight Bluegrass, which is the Honor Flight Network's core in Kentucky. This trip has been planned to coincide with the 71
st
anniversary of D-Day, the significant Allied invasion of Europe during World War II.
Jim Vella, president of Ford Motor Company Fund and Community Services said, "The service and bravery of these soldiers more than 70 years ago will never be forgotten. This will be the first visit for many of them to the national memorial dedicated in their honor. It is a small, but important gesture to recognize their tremendous courage."
This would be the third year in a row that Ford has sponsored an Honor flight for Louisville veterans. Ford's association with the support of military veterans goes back to over 90 years, when Henry Ford had arranged a cross country caravan of 50 Model T-Fords to transport disabled war veterans to the 1922 national convention for Disabled American Veterans in San Francisco. Since the year 1974, Ford Motors has provided over $8 million to organizations for war veterans and construction of war memorials.
Ford's support for the veterans has evolved with time. This year, Ford in association with the National Veterans Transition Services, Inc., arranged the a three week Freedom's Sisters REBOOT Workshop, to assist women veterans in addressing issues, often faced by them, after they transition out of the military, regarding unemployment, health concerns etc. Click
here
for a video on the program.
Ford involves more than 7,000 veterans in its employment also active guardsmen, reservists and military personnel.
About Ford Motor Company Fund and Community Services:
Ford Motor Company Fund, the charitable arm of Ford Motors, is actively involved for over 65 years, with social issues and development. Ford Driving Skills for Life, Ford Blue Oval Scholars, Ford Next Generation Learning; are some of its innovative social efforts. The Ford Volunteer Corps enlists over 30,000 Ford employees and retirees each year to work on local projects that strengthen their communities and improve people's lives in more than 40 countries around the world.
For more information, visit
http://community.ford.com
.
About Ford Motor Company:
Ford Motor Company
is an industry leader in the automotive industry. Based in Michigan, Ford has operations across six continents. With over 183,000 employees all over and 65 factories all around the world, brands under the company include Ford and Lincoln. The company provides financial assistance too through its financial arm, Ford Motor Credit Company. For more information regarding Ford and its products worldwide, please visit
http://corporate.ford.com
.
References:
http://www.businesswire.com/news/home/20150605005120/en#.VXPR99Kqqko