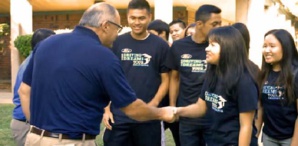 Dailycsr.com – 30 December 2015 – The importance of completing one's high school education that impacts the lives of an individual was conveyed to 'thousands of students'. The said message was "delivered by Ford Motor Company's innovative Ford Driving Dreams Tour", whereby the first stop of the tour was in the California's northern region.
The Ford Motor Company Fund organised the "FDDT in San Jose" in an "inspirational pep rally" that took place "in Yerba Buena High School". The tour is likely to touch "5,000 northern California students in schools with high Latino concentrations". The rally was designed to motivate the students in completing their high schooling on time and move on to "pursue higher education".
While addressing the crowd at the beginning of the event, the president of "Ford Motor Company Fund and Community Services", Jim Vella said:
"We are committed to playing an active role in the community, helping level the playing field for students that want to succeed but lack the resources to do so. With our local efforts through the Ford Driving Dreams Tour and the Palo Alto Research and Innovation Center, we continue to focus on education and innovation as our top priorities."
The "motivational pep rally" was accompanied by "essay contest, and scholarships" which was awarded to four of San Jose public schools' students. The said effort forms part of a "long-term northern California community investment" commitment made by Ford.
After the pep rally at Yerba Buena High School, Ford will organise the same at other three schools, "Andrew Hill High School, James Lick High School, and William C. Overfelt High School".
The former "NASA astronaut Hernández" addressed the students whereby inspiring them to cultivate "an indomitable spirit" for chasing their dreams. In his words:
"I first got my dream as I hoed a row of sugar beets in a California field with my parents. took 12 tries to achieve my dream of becoming an astronaut. I am proof that with a good education, solid work ethic, and the right resources, any student's dream—a dream that others may turn down the first 11 times—becomes a goal that can be fulfilled."
Furthermore, the Ford Company informs:
"In partnership with local Boys & Girls Clubs, approximately 1,000 students from local middle schools will participate in an essay contest which encourages them to reflect on their studies and future careers. The essay contest will be open to the middle school students who attend the Boys & Girls Clubs of Silicon Valley, Fresno County, Marin and Southern Sonoma Counties, Monterey County, and Greater Sacramento. Prizes include gift cards and iPads".
References:
www.fordblueovalnetwork.org