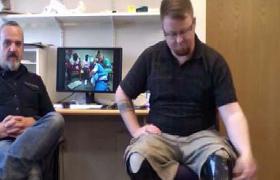 Dailycsr.com – 13 October 2015 – Brian Fountaine has narrowly escaped death as a tank commander, when he was on a patrol in Iraq, more than a decade ago. He witnessed two bombs exploding "under his Humvee". The said incident, although left him alive but cost him both his legs.
However, at present, Fountaine studies in the Northeastern University as a design student wherein he and his team make use of 3D printing technology and develop "prosthetic limbs" that are high in quality but "less-expensive". These limbs are given to veterans and "other amputees" alike.
The team of Brain has received the "2015 Ford College Community Challenge" grant along with nine other such "student-led sustainability projects". The said grant will come from Ford Motor Company Fund, which under its "Ford C3" grant programme picks up "colleges and universities" so that students can participate in addressing "urgent community" needs which goes under "the theme of "Building Sustainable Communities" with the help of their school resources.
In order to meet the requirements of the "Ford C3" grant the participants need to "present proposals for sustainable projects with significant student input, involvement and leadership". Few of the proposals that came from this year's students of "creative teams" include:
"Water conservation, renewable energy, urban gardening, recycling and mobility".
All the projects that won will be receiving a grant amount of "$25,000" in support of their respective projects. In fact, the Ford Motor Company Fund's director of "Education and Community Development", Mike Schmidt stated:
"Innovation and sustainability are two essential elements that will help strengthen communities and improve the quality of life for the people who call them home. Education is how we open the door to a better world and inspire a new generation of engineers and entrepreneurs to lead us into a successful future."
At present the company of Ford under its Ford Fund is investing "more than $1.7 million" in various "ongoing global educational" ventures, whereby the Ford C3 forms part of the same. On the whole, the company gives out "more than $8 million" amount in "scholarships, grants and other initiatives" on an annual basis.
"Ford Fund is the philanthropic arm of Ford Motor Company".
Furthermore, BusinessWire also informs:
"Ford Fund this year also worked with the American Indian College Fund to run a C3 program with Tribal Colleges and Universities in the U.S. for the first time, while also continuing the Ford Historically Black Colleges and Universities (HBCU) Community Challenge. Ford C3 last year launched in Brazil and China, and expanded this year to include Ghana, Kenya, Morocco and South Africa.
"Campus Compact, a national higher education association dedicated to campus-based civic engagement, again partnered with Ford Fund in the U.S. to inform some 600 schools about this year's grant program".
References:
www.businesswire.com