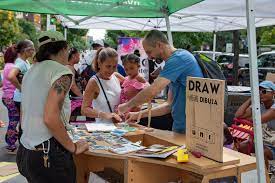 Known for its immersive components, the nation's largest outdoor lighting event and art experience expert BLINK will be showcasing a wide array of talent, including the Fifth Third Bank exhibit this October.

BLINK, lit by ArtsWave, works at scale, using the entire city of Cincinnati as its canvas.

Covering 30 city blocks, the four-day event is an inspiration for innovation and creativity in the form of street art, projection mapping and light-based installations.

Fifth Third will transform one of Cincinnati's most iconic and central landmarks, Fountain Square, into an ElectriFi experience.

"We're excited to see BLINK recapture Fifth Third's role as a creative force to create amazing things in Fountain Square and downtown," said Innovative Design Engineer Doug Sakin. He went on to add, "BLINK and support for the arts are very important to us and this year we are very excited to add renewable energy. This is very important for us."

Developed by Fifth Third's design and innovation team, the ElectriFi look is inspired by the bank's globally recognized commitment to environmental sustainability.

Fifth Third has partnered with B!G ART, an interactive public art group based in Calgary, to design, plan and produce what it hopes will be an unforgettable experience for attendees.

The main attraction of the market is "THE ARRAY", a large-scale abstract installation featuring a solar-powered ecosystem featuring futuristic landscape of reflections, colors, light and sound.

"The creative concept resonated with our team as well as Fifth Third's passion for finding, financing and using renewable energy," said Paul Magnuson, Lead Artist at B!G ART. "We're excited to continue this passion and dedication in a creative, large-scale interactive installation that celebrates sustainability."

While BLINK provides a unique opportunity to showcase the work of contributing artists like Fifth Third, Bank recognizes its importance to the city of Cincinnati on an international scale.