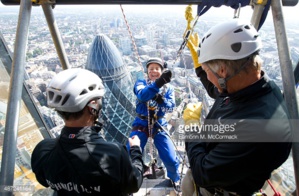 Dailycsr.com – 20 October 2015 – Fasha Mahjoor took a leap of faith in order to collect a "record breaking" sum "£2,000,000". He jumped off from "three iconic London skyscrapers" in the same day. The fund thus raised was donated to the Outward Bound Trust. The said trust is a "charitable organisation" which helps the "underprivileged" youth to realise their latent potential "through outdoor adventure".
Mahjoor is the C.E.O of Neoteryx and Phenomenex, the former provides services in micro-sampling while the latter develops "separation science technologies". The chief executive officer took off from "The Gherkin, The Cheesegrater, and The Walkie-Talkie" in turn which formed part of the "City Three Peaks Challenge". Mahjoor aimed to raise "£100,000" whereby "£33,333" was donated by him alone. In Mahjoor's words:
"While it's terrifying at the edge looking down 50 to 80 stories, the view from the top is exhilarating. I felt like I could do anything, and that is—I am certain of it—the same feeling youths capture through transformative Outward Bound Trust (OBT) programs. The money raised during this event will ensure that many more youths can participate, giving them a fantastic opportunity to attain the self-confidence and motivation they need to do anything they put their minds to. I am forever grateful to the kindness of friends, family, and business partners for their generous support and giving me the opportunity to send over 500 youths to OBT programs."
In order to help Mahjoor raise fund, one can still sponsor by visiting the website
www.mahjoor4charity.com
. The donations thus received will be routed through "Outward Bound Trust programs" to help youngsters who are at a disadvantageous background from the financial angle. Mahjoor himself possesses many qualities whereby he is "an architect, businessman, philanthropist, visionary, and founder and CEO of Phenomenex and Neoteryx".
Talking about the "Outward Bound Trust", BusinessWire writes:
"The Outward Bound Trust is an educational charity that uses the outdoors to help develop young people from all walks of life. Through the generosity of our donors, we are able to run adventurous and challenging outdoor learning programmes that equip young people with valuable skills for education, work and life. We help them become more confident, more effective and more capable at school, college and in the workplace".
On the other hand, Phenomenex maintains the figure of a world leader in technology that commited to develop "novel analytical chemistry solutions" for solving the "separation and purification challenges of researchers". Phenomenex invests in various analysis like "drug discovery and pharmaceutical development", "disease diagnosis, food safety, and environmental" issues. Its contribution has been helping science to accelerate its progress in order to "improve global health and well-being".
BusinessWire also writes about Neoteryx, stating:
"Neoteryx, a spin-off of Phenomenex – a global leader in novel analytical chemistry solutions, is focused on delivering novel, cost-effective microsampling solutions to their customers including products that provide less invasive, simpler options for collecting biological samples as well as services to guide and support the implementation of microsampling workflows from collection through analysis".
References:
www.businesswire.com