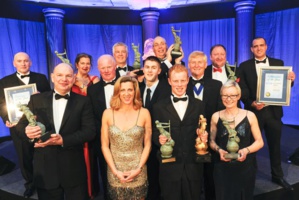 Dailycsr.com – 03 September 2015 – The Fork Lift Truck Association, shortly known as F.L.T.A, has launched Safe Site Award, whereby it is urging the truck operators to join in. The said award will be honouring firms and associations that worked to make "significances changes" possible in their sites in order to make them "safer".
In fact, business are welcomed to take their own initiative to join in the award competition, for that all they need to do is to make sure that during the year of 2015, they "introduced a new safety initiative". The safety initiative could involve any field of action like segregating trucks through a change of site layout or bringing about cultural change in its surrounding which leads to lower accident rates, or even they manage to achieve reduced stock damage or prevent the damage of their premise for that matter. In fact, the chief executive of F.L.T.A, Peter Harvey remarks:
"However excellent the products and support of the manufacturers, dealers and suppliers might be, safety in the workplace ultimately depends on the actions of those who manage and operate equipment. This award recognises those organisations, of whatever size, that have shown genuine commitment to positive change."
The winner of Safe Site 2015 was the company of G's Fresh Beetroot which was based at Cambridgeshire. The company successfully "installed a two way traffic light system", improved the visibility of trucks by fitting blue spot-lights on them and finally came up with a portable devise sign which is used to "warn drivers that pedestrians are present". The coming award of F.L.T.A for Excellence will be presented on the 27
th
of February 2016 which is scheduled to be held "at the International Centre in Telford". Moreover, the Health and Safety informs that:
"Entries are free and can be made online at the FLTA website. The deadline is 30 September 2015".
References:
www.healthandsafety.com