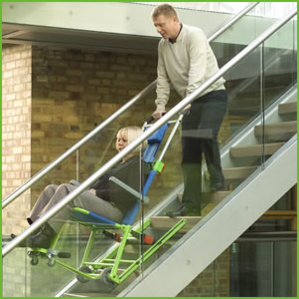 Dailycsr.com – 26 October 2015 – Evacusafe has announced that its evacuation chairs are the "perfect" requirements for any "corporate events" as the United Kingdom gears up to welcome the "Rugby World Cup in mid flow".
At present, the company informs that "a number of" evacuation chairs manufactured at Evacusafe are found in various locations at Twickenham. In fact, they were selected by the "Facilities Management Company, Detail Limited" especially for the 2015 "Rugby World Cup" purpose.
In short the importance of evacuation chairs can be summed up by saying that they are useful in assisting "any person who suffers from limited mobility". In times of emergency when they require "to be transported across a venue" which could even involve going up and down multiple flight of stairs, these evacuation chairs come in real handy. Consequently, these chairs are specifically designed to aid in emergency evacuation.
The management of any facilities or events are already in the know of the safety requirements that they need to keep in mind which calls upon their "duty of care and legal obligations" for the invalids or people with mobility impairments to have equal window of safe exit opportunity in case any emergency situation arises.
The "Fire Safety Order & Equality Act 2010 (Disability)" covers all the events that take place under "temporary buildings" as well for the "same legislation applies" in the said cases. Evacusafe holds a proud portfolio whereby it enlists "some highly esteemed clients and events to boot". Over the many years of service, Evacusafe has provided many evacuation chairs to various important sports events like:
"...the 2012 Olympics, the Ryder Cup, PGA Tour events, this year's European Wheelchair Basketball Championships, the 2015 Rugby World Cup and the TUC Congress Centre to name but a few".
The Evacusafe's director, Paul Mitchell commented:
"Evacusafe is a very well established brand which has become the preferred choice for many corporate and sports events across the country. We provide specialist evacuation equipment to all kinds of venues that host sporting events, conferences, exhibitions, festivals and any kind of hospitality. These temporary structures can be very large indeed, with many additional attendees who may have physical or mental mobility impairment.
"The rental period duration is always customised the meet the needs of each customer and Evacusafe offer rentals from just one or two days, to a number of weeks or even further extended periods. The chairs are delivered and collected at times convenient to ensure minimum disruption".
References:
www.evacusafe.net