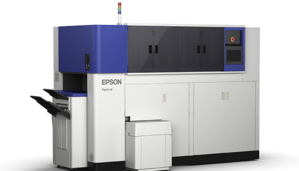 Dailycsr.com – 19 January 2016 – Seiko Epson Corporation has come up with world's first "compact office papermaking system", one that uses "dry process", to produce new paper by using "A3 – and A4 – sized copy paper".
The said process doesn't require water, although very small quantity of water is needed for retaining "a certain level of humidity inside the system". The new "PaperLab" of Epson is most likely to hit the Japanese market soon in the year of 2016. However, the sales proceeds of PaperLab in other regions will be determined later.
The installation of PaperLab in any government or business premises will allow the respective owners to generate "paper of various sizes, thicknesses, and types, from office paper and business card paper to paper that is colored and scented".
The "developmental prototype of the PaperLab" has been launched during the environmental exhibition, "Eco-Products 2015 New window", which was held at the "Tokyo International Exhibition Centre". With an aim of fostering "new value to paper" along with stimulating recycling that would alter the "paper cycle", Epson created its PaperLab which retained the importance and the simplicity of "a communication tool" that came from "a limited resource".
Currently, the paper recycling process, involves wastage at various stages, such during the transportation. This problem can be taken care of as Epson's PaperLab shortens and localizes "a new recycling process in the office" itself.
Moreover, disposal of confidential papers is a delicate matter that needs to be looked into with specific care, whereby some offices even "hire contractors" for the same. However, with the introduction of PaperLab organisations can dispose their documents "onsite" without any anticipation, for the system breaks down papers into fibres and thus completely destroys any information available on the paper being fed in to the Paperlab.
Furthermore, the paper making process of PaperLab is quite fast as it can produce new papper sheets in "about three minutes", whereby it is capable of generating fourteen A4 paper sheets per minute.
On the front of global water crisis, PaperLad can contribute majorly in altering present paper production system that requires a huge quantity of water; whereas PaperLab needs "about a cup of water to make a single A4 sheet of paper".
The aim of Epson is to reduce environmental impact besides helping "customers increase operational efficiency". Likewise, the easy installation mechanism of PaperLab cuts down transportation hassles, thus reducing CO2 emissions, besides bringing down the cost of new paper purchase. Moreover, Epson "believes that offices of all types will fundamentally change the way they think about paper".
References:
http://global.epson.com/