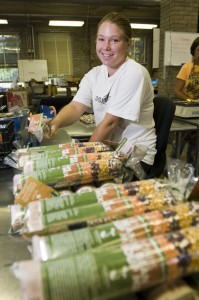 Dailycsr.com – 14 July 2015 – Business Wire reports about the launch of "a new digital library" by Walmart. The digital library through its videos of the Global Women's forum attempts to support "the advancement of future women leaders" worldwide. 21st April marked the day wherein the "Walmart's President's Global Council of Women Leaders' Global Women's Development Series" was celebrated in ten through "a half day event broadcast", while another eight nations organized their own functions focusing on "educating Walmart associates".

Moreover, the issues which affect women at their workplaces were highlighted in these events. Many well known figures like Geena Davis, an academy award winning actor, Indra Nooyi, the C.E.O & chairman of Pepsico along with Katty Kay, an author and an anchor of B.B.C channel delivered their speech in the forum.

The rich content of the digital library includes footage of the Forum's "keynote speeches" and "panel discussions" which dealt with three main topics like "confidence, mentoring and work/life integration". The digital library can be used as a common platform to share these content to push for "professional development and discussion" on a global scale.

The executive vice-president of "Consumables and Health and Wellness", Michelle Gloeckler commented that:
"Over half of our associates are women, and as the world's largest retailer, we know that providing development opportunities for our female associates and making this information available to women around the world can have a ripple effect on the global workforce. It is our hope that this inaugural Global Women's Forum will serve as a catalyst in our work to develop the future female leaders of Walmart."

In fact, in Geena Davis' words:
"I could not be more thrilled to be a part of Walmart's Global Women's forum and to see a company like Walmart working to provide opportunities for its associates to thrive and share those opportunities globally. By working together across multiple industries, we can empower women worldwide with the resources and mentorship they need to build meaningful careers."

The digital library and the "Global Women's" forum belong to a greater development series which capitalizes any opportunities that come on its way, whereby women can "grow and thrive" all over the world. The series facilitates accessibility and creates supportive platform for women.

The Chairman cum C.E.O of Pepsico. Indra Nooyi, was a forum speaker, said:
"All around the world, women are breaking new barriers and making tremendous contributions to both business and society. The work Walmart is doing to invest in and empower women is critically important, and PepsiCo is proud to contribute to the continuing discussion on this topic. We are deeply committed to fostering diversity and inclusion across our workforce and we look forward to continuing our work with Walmart on this shared priority."
Walmart has also initiated its "Women's Economic Empowerment" programme, whereby looks forward to support 57% of women associates present at Walmart. Furthermore, it plans to "source $20 billion from women owned businesses" across the U.S., whereby "doubling" its global retail from international "women owned businesses". Additionally, Watmart has shouldered the responsibility of training "1 million women" worldwide on the subjects of "retail, factories and farming".
References:
http://www.businesswire.com/news/home/20150709005191/en#.VZ-7nvmqqko