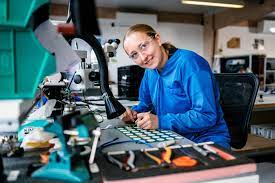 During this Manufacturing Month, Georgia-Pacific is honoring the achievements of women in the forest products sector and acknowledging their significant contributions. Even though women constitute only 29 percent of the industry, GP takes pride in having many pioneering women who are making a difference in unconventional roles.

One of the prominent advocates for women in manufacturing at GP is Carrie Shapiro, the vice president of Sourcing Execution. She is a strong proponent of mentorship and visible leadership. Recently, she spoke at the Women in Manufacturing Summit, where she shared her wisdom and experiences from over two decades in the industry.

Carrie's talk centered around the qualities of an effective supervisor, highlighting the importance of understanding your team's skills and leveraging them for business success. She also stressed on the significance of forming and leading high-performance teams, a vital competency for any leader in manufacturing.

GP is dedicated to fostering a workplace where everyone feels empowered, irrespective of their gender or background. The company offers several family-friendly benefits like maternity and paternity leave and adoption assistance, aimed at eliminating obstacles that might hinder women from realizing their full potential.