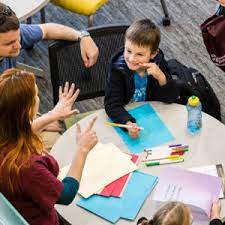 "Engineering was not something that I thought was accessible to me and going through the Porterville program really opened my eyes. The Thinkabit Lab has really affected my growth and development. Qualcomm gave me the confidence to start dreaming about a career in engineering," said Luis, Thinkabit Lab student participant and summer camp intern from Porterville, California

Thinkabit Lab, our in-house STEM engagement initiative, serves as a platform for introducing students to the world of invention through practical engineering activities. Since its inception in 2014, Thinkabit Lab has actively involved students from various cultural and economic backgrounds in activities such as wiring circuits akin to electrical engineers, coding like computer scientists, and designing and constructing IoT-themed inventions that tackle real-world issues. These hands-on experiences, along with other career exploration endeavors, provide students with insight into the diverse job opportunities within technology companies like Qualcomm while highlighting how technology can be harnessed to create a better world.

In the present year, we have enriched our Thinkabit Lab curriculum by:

Incorporating a sustainability dimension into our projects to encourage budding inventors to integrate sustainable thinking into their design and invention processes.

Enhancing our Wearable Tech curriculum to span across multiple IoT sectors. By utilizing sensors, students have been able to devise IoT devices showcasing how wearable technology can enhance healthcare, public safety, and overall efficiency in our daily lives.

Developing a user-friendly experience for educators of all skill levels, offering them a structured lesson plan, guided instructional videos, and valuable tips. This resource is readily accessible for educators to implement our free activities within their classrooms or after-school programs.

Integrating a career exploration element that utilizes O*NET resources and features a lesson led by a Thinkabit Lab instructor. These materials enable individuals visiting our Learning Center to engage in STEM learning, even outside of our formalized programs.

Here's an overview of our impact in 2022 across the United States:

We operated at 24 sites in 7 states throughout the U.S.
Our initiatives reached over 10,000 students.
We engaged 425+ girls through our Wearable Tech Camps.
Our week-long STEM camps impacted over 1,000 students.
We trained 11 new instructors.
We actively engaged 75 educators.
Our programs benefited from the participation of 48 Qualcomm employee volunteers.
A total of 121 volunteer hours were dedicated to our cause.