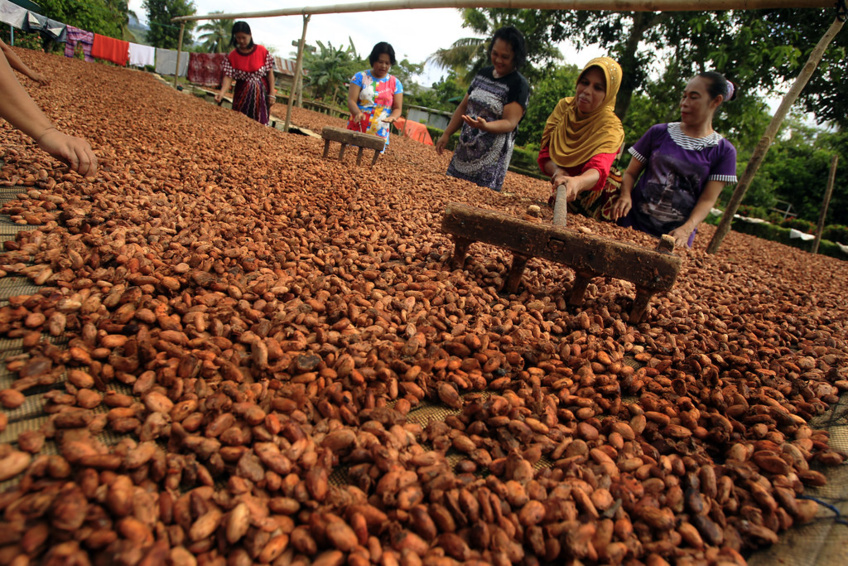 Introducing Hershey's Income Accelerator in Côte d'Ivoire: Empowering Cocoa Farmers and Sustaining Communities!

The Hershey Company (NYSE: HSY) is thrilled to unveil its groundbreaking initiative, the Income Accelerator, specially crafted for the vibrant lands of Côte d'Ivoire. This transformative program is set to uplift cocoa farming households by boosting their incomes through a range of strategic measures.

With the invaluable collaboration of the Conseil du Café-Cacao, the Rainforest Alliance, and CARE, the Income Accelerator brings together the best minds in the industry to create a truly impactful solution. We have combined cutting-edge knowledge and practical expertise to design a multi-faceted approach that tackles cocoa farmer poverty head-on while fostering sustainable farming practices and combatting the risk of child labor.

What sets the Income Accelerator apart is its unique blend of cash transfers (CTs) and investments in village savings and loan associations (VSLAs). By infusing much-needed financial resources into cocoa farming communities, we are empowering these hardworking individuals to take charge of their futures and unlock new opportunities.

But our commitment doesn't end there. We firmly believe in fostering long-term change and building resilient communities. That's why the Income Accelerator not only provides immediate financial relief but also establishes a solid foundation for sustainable growth. By investing in village savings and loan associations, we're enabling cocoa farmers to access essential financial services, build financial literacy, and cultivate self-reliance.

"The Income Accelerator is part of Hershey's long-term commitment to make a real difference in the lives of cocoa farmers and their children," said Jason Reiman, Chief Supply Chain Officer at The Hershey Company.

"We are proud to begin this important initiative in collaboration with the government of Côte d'Ivoire and our NGO partners. Together, we can support better livelihoods for farming households and ensure bright futures for cocoa-growing communities."

Unlock New Possibilities with Hershey's Income Accelerator: Empowering Cocoa Farmers and Transforming Communities!

Prepare for a revolution in the world of cocoa farming as Hershey, in an extraordinary partnership with the Rainforest Alliance, unveils a game-changing aspect of the Income Accelerator program. Brace yourself for mobile cash transfers that will bring financial freedom and prosperity to approximately 5,000 cocoa farming households within our illustrious supply chain.

Picture this: up to a remarkable $600 per household per year! These generous cash transfers will serve as a powerful additional source of income, igniting new opportunities and brighter futures. But there's more to it than just the financial boost. These cash transfers are intricately tied to the adoption of sustainable and regenerative farm management practices.

By embracing these practices, cocoa farmers will witness their farms flourish, profitability soar, and resilience strengthen in the face of unexpected environmental challenges. It's a win-win situation where both farmers and nature thrive in perfect harmony.

But we're not stopping there. In collaboration with CARE and cocoa farmer cooperatives, Hershey is taking the lead in strengthening existing Village Savings and Loan Associations (VSLAs) while establishing new ones. Our aim is nothing short of empowering an astonishing 15,000 members and their families through a remarkable network of 550 VSLAs.

These VSLAs act as beacons of hope, providing a vital lifeline to members, especially women and single mothers, in farming communities with limited access to formal banking and micro-financing services. Say goodbye to financial hurdles, as our VSLAs offer a local structure for enhancing savings and accessing low-interest loans. Together, we're revolutionizing financial independence and empowering those who need it most.

In just three years of becoming a VSLA member, participants can expect tangible, life-changing savings. We're talking about incremental growth that brings real transformation, opening doors to new opportunities and creating a future full of promise.

Embrace Hershey's Income Accelerator and witness the extraordinary unfold. Together, we'll break barriers, uplift cocoa farmers, and create resilient communities where dreams are no longer out of reach. The journey to a sweeter world begins now.

"Low producer income is a root cause of child labor and deforestation. We support this Income Accelerator program because the issue of producer income is at the heart of our concerns," said Yves Brahima Koné, Managing Director at Conseil du Café-Cacao.

Experience the Power of Hershey's Income Accelerator: Unleashing Prosperity and Empowering Farmers!

This ground-breaking program is designed to implement proven poverty reduction strategies that elevate incomes and foster professionalized farming practices. It's a visionary initiative that aligns seamlessly with the government of Côte d'Ivoire's National Strategy for Sustainable Cocoa (SNCD), forging a path towards a brighter future.

Extensive research has demonstrated the incredible impact of our approach. Through cash transfers (CTs) coupled with comprehensive financial literacy and farm business training, we equip farmers with the tools they need to unlock higher household incomes and elevate the status of women in decision-making processes. It's a recipe for success, backed by empirical evidence that proves our methodology's effectiveness.

But the benefits don't stop there. By establishing access to savings and loan institutions, we're opening doors to endless possibilities. We empower farming households to professionalize their operations, cultivating an environment where reliance on child labor becomes a thing of the past. With increased incomes and enhanced farming practices, families experience improved food security and gain valuable resources that can be invested in their children's education and overall well-being.

Imagine a world where every child has the opportunity to flourish, where education knows no bounds, and where the future is abundant with promise. That's the future we're building together with Hershey's Income Accelerator.

"One of the most urgent problems cocoa farmers face is that the income they get from their crop is not enough to achieve a decent standard of living. Combined with the impact of climate change, even in good years, many smallholder farmers struggle to make ends meet. Guided by three decades of research and experience, we believe that the Income Accelerator will help ensure long-term financial and quality of life benefit for cocoa farmers and their families in Côte d'Ivoire. The Rainforest Alliance looks forward to working in partnership with Hershey to help farmers link the short-term cash payments to their farm's long-term sustainability and profitability strategy," said Nanga Kone, Country Director for Côte d'Ivoire at the Rainforest Alliance.

"Since 1991, CARE has helped more than 13.5 million people join savings groups, and we aim to engage 62 million people in savings groups by 2030. Savings groups help women, girls and families across the globe increase their incomes and access food and healthcare. In fact, our research has shown that women who participate in savings groups triple their incomes. Hershey's continued investment and support for the VLSA program will have a transformational impact on the lives of cocoa-producing families and communities throughout Côte d'Ivoire," said Michelle Nunn, President and CEO at CARE.

To ensure the utmost accuracy and measure progress effectively, Hershey has assembled a prestigious Learning Advisory Committee. This esteemed committee includes the Sustainable Food Lab, renowned for its expertise in sustainable practices, and is chaired by the esteemed Conseil du Café-Cacao. With such an exceptional team guiding our journey, we can guarantee robust evaluation tools and methodologies that capture the true essence of our program's impact.

As part of our commitment to transparency and accountability, we will keep you informed every step of the way. Updates on the program's progress will be readily available on the Hershey website, allowing you to witness the incredible transformations firsthand. Additionally, our annual ESG report will provide comprehensive insights into the program's achievements and milestones. Rest assured, we're dedicated to maintaining open lines of communication and sharing the stories of success that unfold as a result of our collective efforts.

Hershey's commitment extends far beyond the confines of our organization. We firmly believe in the power of collaboration and continued partnerships. That's why we're committed to working hand in hand with industry leaders and governmental entities in Côte d'Ivoire. Together, we can ensure the long-term beneficial impact of this program, creating a legacy that transcends generations and uplifts cocoa farming households for years to come.

Prepare to witness the transformative power of Hershey's Income Accelerator. Together, let's create a world where dreams flourish, opportunities abound, and communities thrive. The future is in our hands, and with your support, we can make it a future worth cherishing.