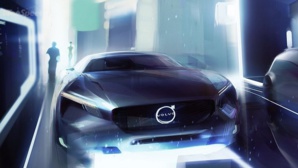 Dailycsr.com – 25 October 2015 – According to the reports, Volvo being a "car giant" of Switzerland, is about to launch its new development. News has it that the said company has designed an exclusive "new range" electrified cars that are smaller in size and are run entirely on electricity.
These models of cars will be launched in the market for sale by the year of 2019.
Volvo has new plans up its sleeves under its "new strategy" scheme involving electric cars, whereby the company says that in the "medium term" of the total figure of its car sales, the tem percent will be made up of in account of the "electrified vehicles" sale.
The "new electrification strategy" aims at first to introduce the "plug-in hybrid versions" which will be made available in two of their series of "larger cars" like "90 series and 60 series". Volvo has arrived at this decision by basing itself on the "new Scalable Product Architecture" or SPA in short of the company.
The SPA scheme has already kick started its process by launching the "T8 Twin Engine All-Wheel Drive" which is a new "plug-in hybrid version" of Volvo's "new XC90 SUV". Henceforth, the process will be carried forward by introducing the "plug-in hybrid versions of the new S90 premium sedan" followed by Volvo's other "forthcoming models" as well.
In fact, the company of Volvo Cars are into broadening their range of "plug-in hybrid cars", whereby their offers will introduce "a new front-wheel drive Twin Engine variant" in their collection.
While, the report states:
"The company maintains that it will further deepen its product offering with the introduction of an entirely new range of smaller 40 series cars based on its newly-developed Compact Modular Architecture (CMA), which, like SPA, has been designed from the outset for electrification".
References:
www.ethicalperformance.com