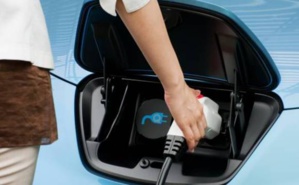 Dailycsr.com – 30 October 2015 – Nissan LEAF is one of the best-selling "electric vehicle" in the world which has been manufactured by Nissan, along with the company of "Ecotricity" began a new campaign. The latter is in charge of the "biggest and most comprehensive rapid charging network" of Europe called "Electric Highway".
Recently, Nissan and Ecotricity urged the government of the United Kingdom to bring in "official road signage" keeping the "growing number" and the rising standards of Europe's "rapid charging points".
Nevertheless, there are "more than 9,000 EV charging points" all over the country yet none of them are official so as to guide and direct the motorists in a "recognisable signage".
The campaign launched by Nissan, will be calling upon the key influential figures from the "motoring and sustainable sector" in a common platform so that they can "share their views on the UK's electric vehicle charging network". Once the leading figures from the industry start sharing their views on the campaign, then the "Department for Transport and Office for Low Emission Vehicles" can be encouraged to take follow up actions.
The founder of Ecotricity, Dale Vince, present at the inaugural launch of the campaign commented:
"Both the cars and the infrastructure are in place to support the electric car revolution in Britain – there are Electric Highway pumps at almost every motorway services, while companies like Nissan are developing top quality electric cars.
"It's time to introduce charging point road signs in Britain – they'll provide necessary direction for the thousands of electric car drivers in Britain as well as increasing public awareness that the infrastructure is ready for them to make the move to an electric car. ?Over the past four years, we've installed Europe's most advanced electric car charging network right here in Britain – it has 250 pumps, 20,000 members and over 10 million emission free miles driven since its inception.
"The growth so far in 2015 has been phenomenal – over a million miles driven on the network every month. The argument for road signs could not be stronger."
References:
www.ethicalperformance.com